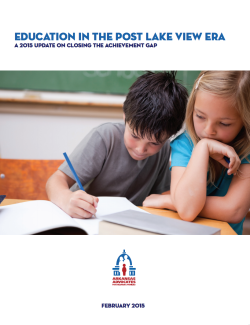 When Keith A. Nitta, then of the University of Arkansas Clinton School of Public Service, and I developed our 2008 study "Arkansas Education in the Post-Lake View Era: What Is Arkansas Doing to Close the Achievement Gap?," Arkansas was just emerging from the dramatic alterations in state education policy created by the adequacy and equity litigation in the landmark Lake View cases.
That report served two roles: to celebrate the achievements of state policy leaders from all three branches of government and to urge those leaders to build on that momentum and tackle the persistent inequities in educational achievement for Arkansas's young people.
I'm proud that the 2008 report did spur important dialogue about inequities in the opportunity to learn across Arkansas and has also been tied to some important efforts to advance policies related to out-of-school programming, school health initiatives, and continued expansion of early childhood program access.
As a new generation of policy leaders in all three branches of Arkansas's government takes center stage in 2015, it's important to both remind ourselves (and those leaders) of the ability of our state to create fundamental change in educational opportunities, like what happened in the Lake View era, but also that—despite efforts by advocates on the topics noted above—important gaps in educational achievement remain a reality in Arkansas and they threaten to erode the promise of that era.
That's why this updated study arrives at such a fortuitous time. It reiterates the reality that change in educational outcomes in Arkansas will not be the result of any single alteration in public policy. Instead it will come from a variety of interventions, all proven in their positive impact through high-quality research. This must occur for Arkansas's public school system to serve as the impetus for opportunity for all of our youngsters.
I hope that, just as the 2008 study did, this update will provoke the type of dialogue and advocacy necessary to create an opportunity to learn that transcends income, race, ethnicity, and zip code in our state.
Jay Barth, M.E & Ima Graves Peace Distinguished Professor of Politics, Hendrix College; Member, Arkansas State Board of Education