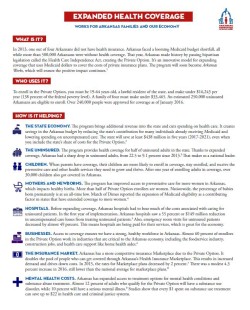 In 2013, one out of four Arkansans did not have health insurance. Arkansas faced a looming Medicaid budget shortfall, all while more than 500,000 Arkansans were without health coverage. That year, Arkansas made history by passing bipartisan legislation called the Health Care Independence Act, creating the Private Option. It's an innovative model for expanding coverage that uses Medicaid dollars to cover the costs of private insurance plans.
The program will soon become "Arkansas Works." Governor Asa Hutchinson's "Arkansas Works" proposal includes more politically conservative features, like work-training referrals and monthly premiums. Lawmakers are expected to vote on the proposed changes during a Medicaid special session in April 2016.
AACF hopes that affordable health coverage continues to be a priority for policymakers. Since 2014, we've seen great success with the Private Option:
We dramatically cut the rate of uninsured adults, from 22.5 percent in 2013 to 9.1 percent midway through 2015 making Arkansas a national leader.
In the first year, Arkansas hospitals saw a 55 percent or $149 million reduction in financial losses from treating uninsured patients.
The state is estimated to save at least $438 million by 2021, even after including the state's share of costs for the Private Option.
When parents have coverage, their children are more likely to enroll in coverage, stay enrolled, and receive preventive care and other health services. In one year of enrolling adults in affordable coverage, over 30,000 children also got covered in Arkansas.
Check out our fact sheet Expanded Health Coverage Works for Arkansas Families and Our Economy for more information about how expanded coverage is improving lives and the economy.