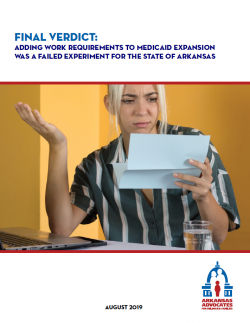 Arkansans kicked off Arkansas Works health insurance should reapply for coverage.
In our third and final brief examining the work reporting requirements placed on Arkansas Works Medicaid enrollees, we find confusion, complications and long-lasting consequences of the now-disallowed policy.
More than 18,000 low-income Arkansans lost their health insurance between September 1 and December 31, 2018, for failing to meet the work reporting requirements. A further 6,400 were saved the same fate by the ruling of the U.S. District Court for the District of Columbia. On March 27, 2019, Judge James E. Boasberg wrote the court's finding that the U.S. Department of Health and Human Services was "arbitrary and capricious" in its approval of Arkansas's plan because it "did not consider how they would affect Medicaid's core purpose of providing health care to the needy."
The United States has appealed the judge's ruling, and the case will be heard October 11, 2019. Until the case is heard, the work reporting requirement is not active. The state will not automatically reenroll those who lost coverage due to non-compliance with the work-reporting requirement, however, as it does not view the ruling as requiring it to do so.
Our analysis finds that the work reporting requirement did not achieve it's stated purpose: getting more Arkansans to work. In fact, employment rates declined for adults who lost their health insurance. Arkansas's expansion of Medicaid in 2013 acknowledged that, when people are healthy, they are more able to work. Taking away health insurance, or threatening to, will not increase employment rates among low-income adults.
"Any work requirement will have the unintended consequence of taking coverage away from people who are already working or who should be exempt due to illness, disability or other factors," said Loretta Alexander, AACF health policy director. "The state would dramatically improve its future by shifting its focus from taking away services that help Arkansans improve themselves to strengthening job training and employment assistance programs."
We recommend Arkansas abandon the work reporting requirement policy and look for ways to restore Medicaid coverage to those who lost it.
In the meantime, we urge anyone who receives free or low-cost health insurance through Arkansas Works to check their enrollment status and to reapply if they lost coverage due to the work reporting requirement.
Download a copy of the report below.