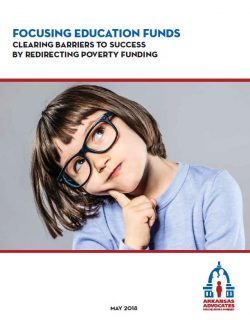 It's no secret that the quality of public-school education is not equal across Arkansas. Similarly, all students do not experience the same types of challenges. This is especially true for students living in poverty. They often face more obstacles to learning and need more resources. Arkansas recognizes this in the way it funds education. As part of a broader strategy to close achievement gaps, the state provides funding to districts specifically to offer extra resources for children in or near poverty.
This poverty funding is commonly known as National School Lunch Act funding, or NSL, because of the way the state measures which districts need the funding and how much. It was established in response to the Arkansas Supreme Court's landmark ruling in the Lake View school funding case. In that 2002 decision, the Court found that the state's public-school funding system was unconstitutional and confirmed that it's the state's responsibility to provide every child an adequate and equitable education. The Court decided that the state must define what an adequate education is and assess, evaluate, and monitor the entire system to ensure that that education is provided. Though the ruling's requirements are still in effect, significant discrepancies between low- and high-income districts remain.
The extra funding for high-poverty schools was established in 2004 and was originally meant to finance three areas: tutoring, extended day and summer school programs, and quality pre-K programs. All three are proven to help reduce learning barriers for kids who grow up in low-income households. The ways that this money can be spent, however, has multiplied over time to include programs that don't necessarily benefit low-income populations. Although the funds are often spent on valuable investments (such as teacher salary increases), efforts to help low-income students are weakened because the funds are spread too thin.
Download the full report to read more about NSL funding in Arkansas, along with AACF's recommendations to ensure this money is spent to help low-income students succeed. Plus, download our handy infographic!