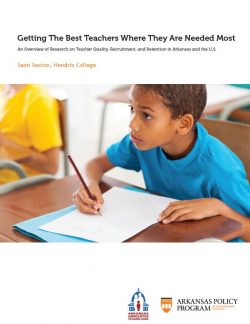 Policymakers, parents, and school administrators all want to ensure that students are taught by the best possible teachers, and for good reason. Research has shown that teacher quality is one of the best indicators of student achievement (Kini and Podolsky, 2016). While everyone can agree on the importance of ensuring that students are taught by high-quality teachers, there is debate over the best way to ensure that this actually occurs. First of all, what practices or qualities make one teacher more effective than another? How can new teachers be trained to use the most effective teaching methods, and how can experienced teachers continue to improve? What should schools do to attract and retain the best teachers? These are all questions that policymakers and researchers have been trying to address for years.
This report provides an overview of the research on teacher quality, recruitment, and retention in Arkansas and the United States. It also notes many disparities in teacher characteristics and retention across schools and summarizes many of the policies and programs in Arkansas that have tried to address these problems.
The report was written for Arkansas Advocates for Children and Families (AACF) by Sami Sexton, a 2017 graduate of Hendrix College's Arkansas Policy Program (APP). This program was developed by Hendrix politics professor Dr. Jay Barth with the support of the Bill and Connie Bowen Odyssey Professorship, which builds upon Barth's ongoing public policy and public opinion research and advocacy work related to Arkansas. Through APP, students and faculty provide nonpartisan, original analyses on key public policy issues in Arkansas through a new undergraduate think tank.
Sami's report offers research-based recommendations on how our state can help recruit, retain, and develop the best teachers in the regions and schools that need them most. Although the report's recommendations are the author's alone and do not necessarily reflect those of AACF, we are grateful for her hard work on this issue and hope that it provides policymakers and other stakeholders with insight into some of our education system's most persistent problems, from the perspective of a new college graduate.
Read and download the full report here.