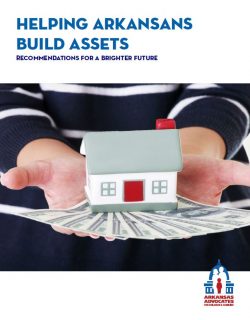 Helping working Arkansas families grow their assets will build a stronger middle class and a healthier economy, which benefits us all. Our state has come a long way in making it easier for all Arkansans to build assets, but we need to continue to make smart policy choices that encourage asset building in our communities.
Assets are not just money in the bank; they can also come in the form of educational attainment, or durable assets like a home or business.
Being able to build wealth and assets does not just depend on how much money you make, either. Asset building relies on a variety of factors like health care, education, whether you rent or own a home, and access to financial institutions.
Having assets helps insulate people from financial downturns, but there are longer-term benefits as well. When a family has a good amount of savings or assets, their kids are more likely to move into a higher income bracket than their parents, perform well in school, and avoid teen pregnancy. When parents have quality asset-building tools, they can help their kids down the road by investing in things like college savings accounts. In fact, assets and wealth are linked to virtually every conceivable aspect of someone's life.
Arkansas has a long history of poverty, but even families living above federal poverty levels frequently struggle to make ends meet and build assets. These "struggler" wages are above minimum wage, but still too low for families to reach financial stability. Helping this group build assets is essential to creating a strong middle class, encouraging entrepreneurship, and building a more competitive workforce.
In our most recent publication, "Helping Arkansans Build Assets," senior policy analyst Eleanor Wheeler takes a closer look at the history of asset building in Arkansas, and addresses policy recommendations to give all Arkansans a brighter future.
Click the download link to view and download the publication.