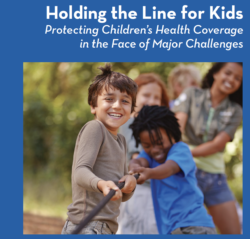 Protecting Children's Health Coverage in the Face of Major Challenges
Arkansas has historically been a leader in children's health coverage, with almost 95%  of our state's children covered by health insurance. But we're entering a critical period to hold the line on that good track record. With next month's official end of policies designed to keep health insurance coverage in place during the pandemic, we must be vigilant to make sure children don't lose their access to essential health care services because of bureaucratic red tape.
In our latest Finish Line report, we take a deep dive into health coverage for children and families in Arkansas. We're sharing information on who's most likely to be uninsured, who's at risk of losing their insurance, and what we can do about it. It's particularly timely, as we closely monitor our state's "unwinding" of the Public Health Emergency.
As those emergency policies end, tens of thousands of Arkansas's children will likely lose their Medicaid and ARKids First coverage this year – even those who are still eligible. In 2022, almost 59% of Arkansas's children had their health coverage through ARKids First and various forms of Medicaid coverage. In our report, we recommend several steps the state can take to give children and their parents the best chance to keep their coverage in place.
We also look at opportunities to reduce racial and ethnic disparities in coverage and in health outcomes, especially related to our state's maternal health crisis.