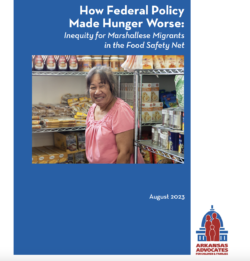 Inequity for Marshallese Migrants in the Food Safety Net
Every Arkansan should have access to adequate and nutritious food. But all too often, our "safety net" programs leave out the ones who need it most. For example, people born in the Marshall Islands are left out of the Supplemental Nutritional Assistance Program (SNAP). SNAP is the program that gives people EBT cards to buy food. This is a longstanding oversight in federal law that we could fix with legislation now under consideration by Congress.
Download our report to learn more about this critical issue. And download "Bringing SNAP to Marshallese Arkansans" (in English and in Marshallese), our companion piece outlining current policy solutions to this problem.