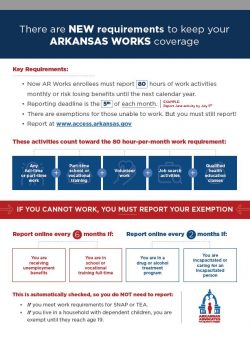 In June 2018, Arkansas became the first state to officially implement a requirement to work in a Medicaid expansion program – known here in Arkansas as Arkansas Works.
Some Arkansas Works enrollees began reporting work activities or exemptions in June. By the end of the year, all Arkansas Works enrollees ages 30 to 49 will be required to report work activities monthly at https://www.access.arkansas.gov/ or risk losing their health coverage.
For more information, including step-by-step guides and videos showing how to report your work activities and exemptions, visit the official Arkansas Works informational website here.
If you need assistance with enrollment or fear you might lose coverage due to these new reporting requirements, Legal Aid of Arkansas is available to assist you at 800-967-9224. Dial 4 for their Medicaid hotline.