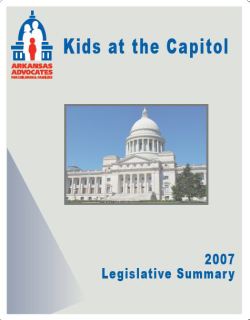 The 2007 session of the Arkansas
General Assembly was a
successful one for children and
families. Under Governor Beebe's
leadership and with the support of
legislative leaders, the state took
major steps to improve the well being
of children and families. Most
notably, the legislature approved
the final $40 million of funding for
quality Pre-K as part of the 6-yearplan
to increase annual funding by
$100 million in order to provide
Pre-K for all low-income children.