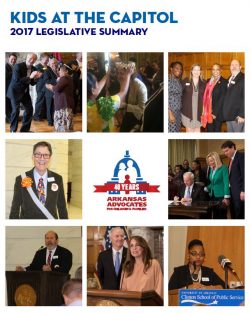 Each legislative session brings its own bag of mixed goods, and the Regular Session of the 91st General Assembly was no different. While we were concerned about the constant push for legislation that punishes poor people, there were definitely some wins for families this year. The session began with an aggressive push by Governor Asa Hutchinson for a $50 million low-income tax cut. Although AACF advocated for the creation of a state Earned Income Tax Credit as the cheaper and more effective way to provide tax relief for low-income working families, we applaud the Governor for his plan, which was the first tax cut in recent history to specifically target low-income Arkansans.
Other wins included paid maternity leave for state employees; Medicaid expansion approved for another year; a school discipline law designed to keep our youngest kids in the classroom; passage of the Fair Sentencing of Minors Act, which prohibits sentencing youth to life without parole; and an additional $3 million in the budget for our Arkansas Better Chance pre-K program.
Unfortunately, lawmakers did not fund the Positive Youth Development Grant Program Act. The law passed in 2011 and is designed to provide funding for quality after-school and summer programs. It has never been funded, but just $5 million would get these programs off the ground. However, legislators decided to set aside funds for a competitive grant program to allow districts to apply for funds for after-school, pre-K and tutoring programs. This is progress, but we hope lawmakers will fund the Positive Youth Development program in the next session so that non-school district programs will also have access to grant funds for quality after-school and summer programs.
Read more about the session's highs and lows in our most recent Kids at the Capitol.