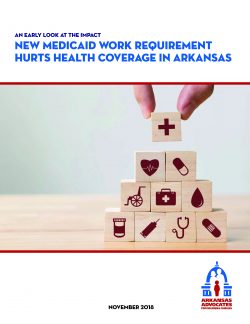 Nearly 8,500 Arkansans lose health care coverage, with more losses expected each month
A new brief from Arkansas Advocates for Children and Families highlights that few people got new jobs, while many lost health insurance, as a result of the Arkansas Works work-reporting requirement.
Each month the state releases a data report that tracks the impact of the work-reporting policy. Our brief, An Early Look at the Impact: New Medicaid Work Requirement Hurts Health Coverage in Arkansas, examines data from the August 2018 report because it was the first full quarter of implementation of the policy.
Of the more than 265,000 low-income Arkansans who have health insurance through Arkansas Works, the state's Medicaid expansion program, about 60,000 must use the state's online system to show they either worked or were exempt from working this year. So far, roughly 8,500 people have lost their health insurance because they didn't report working – or prove they don't have to work – for three months. Even if they were working or started working during that time, they cannot get their health insurance back until at least January 2019.
About 1,200 people successfully satisfied the work requirement, but about 800 of them were already meeting work requirements for other programs, leaving only 400 people or so starting work, or related activities, possibly as a result of the rule.
The website people must use to report their work hours or exemptions has several known problems. Plus, many people still don't know about the new rule, even though they are required to follow it. The state has not invested enough in outreach to make sure people who are affected get the information they need. The state is required to conduct an evaluation of the policy; however, no plan to do so has been formed yet.
"We only expect to see more people losing their health insurance if the work reporting requirement continues under its scheduled phase-in," says Rich Huddleston, executive director at Arkansas Advocates for Children and Families. "To ensure people have the health coverage they need to be healthy enough to work, the state should drop the new, experimental rule."
Arkansas Advocates for Children and Families recommends, at a minimum, pausing implementation of the policy until the evaluation plan is completed and until the state invests in stronger outreach. More data should be collected on the barriers that make it difficult for people to meet the requirement.
If the rule proceeds on schedule and without changes, it will continue to threaten the progress we've made to improve access to coverage and care for every Arkansan.
Click the download button below to read the full report.