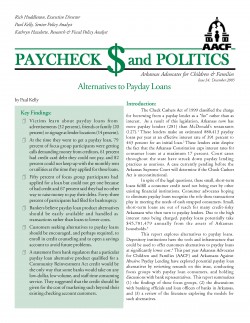 The Check Cashers Act of 1999 classified the charge for borrowing from a payday lender as a "fee" rather than as interest. As a result of this legislation, Arkansas now has more payday lenders (281) than McDonald's restaurants (127). These lenders make an estimated 880,413 payday loans per year at an effective interest rate of 391 percent to 443 percent for an initial loan. These lenders exist despite the fact that the Arkansas Constitution caps interest rates for consumer loans at a maximum 17 percent. Court cases throughout the state have struck down payday lending practices as usurious. A case currently pending before the Arkansas Supreme Court will determine if the Check Cashers Act is unconstitutional.
In spite of the legal questions, these small, short-term loans fulfill a consumer credit need not being met by other existing financial institutions. Consumer advocates hoping to eliminate payday loans recognize the role these transactions play in meeting the needs of cash strapped consumers. Small, short-term loans are out of reach for many credit-risky Arkansans who then turn to payday lenders. Due to the high interest rates being charged, payday loans potentially take $45,781,479 annually from the assets of Arkansas households.
This report explores alternatives to payday loans. Depository institutions have the tools and infrastructure that could be used to offer customers alternatives to payday loans at significantly lower cost. This past year Arkansas Advocates for Children and Families (AACF) and Arkansans Against Abusive Payday Lending have explored potential payday loan alternatives by reviewing research on this issue, conducting focus groups with payday loan consumers, and holding discussions with bank representatives. This report summarizes (1) the findings of these focus groups, (2) the discussions with banking officials and loan officers of banks in Arkansas, and (3) a review of the literature exploring the models for such alternatives.