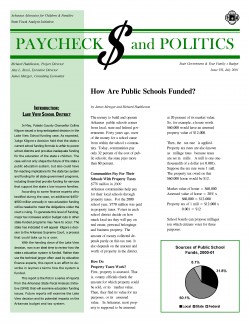 In May, Pulaski County Chancellor Collins Kilgore issued a long-anticipated decision in the Lake View School funding case. As expected, Judge Kilgore's decision held that the state's current school funding formula is unfair to poorer school districts and provides inadequate funding for the education of the state's children. The case will not only shape the future of the state's public education system, but also could have far-reaching implications for the state tax system and funding for all state government programs, including those that provide funding for services that support the state's low-income families.
According to some finance experts who testified during the case, an additional $450-$900 million annually in new education funding will be needed to meet the obligations under the court's ruling. To generate this level of funding, major tax increases and/or budget cuts in other state-funded programs may have to occur. The state has indicated it will appeal Kilgore's decision to the Arkansas Supreme Court, a process that could take up to a year.
With the handing down of the Lake View decision, now is an ideal time to review how the state's education system is funded. Rather than use the technical jargon often used by education finance experts, this report is an effort to describe in layman's terms how the system is funded.
This report is the first in a series of reports from the Arkansas State Fiscal Analysis Initiative (SFAI) that will examine education funding issues. Future reports will examine the Lake View decision and its potential impacts on the Arkansas budget and tax system.