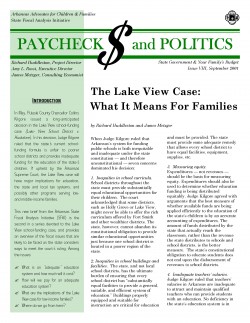 In May, Pulaski County Chancellor Collins Kilgore issued a long-anticipated decision in the Lake View school-funding case (Lake View School District v. Huckabee). In his decision, Judge Kilgore ruled that the state's current school-funding formula is unfair to poorer school districts and provides inadequate funding for the education of the state's children. If upheld by the Arkansas Supreme Court, the Lake View case will have major implications for education,
the state and local tax systems, and possibly other programs serving low- and middle-income families.
This new brief from the Arkansas State Fiscal Analysis Initiative (SFAI) is the second in a series devoted to the Lake View school-funding case, and provides an overview of the fiscal issues that are likely to be faced as the state considers ways to meet the court's ruling. Among the issues:
What is an "adequate" education system and how much will it cost?
How will we pay for an adequate education system?
What are the implications of the Lake View case for low-income families?
Where do we go from here?