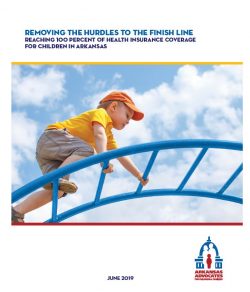 Our annual Finish Line report looks at the status of health care coverage for Arkansas's children and families. The report examines changes over the years and recommends actions to get Arkansas to The Finish Line: 100 percent coverage of Arkansas's kids.
Alarmingly, the data show a reversal in the trend of increasing coverage of children in the state. Alongside a national increase in the number of uninsured children — the first in 10 years — Arkansas saw its number of uninsured children grow by 3,000.
To get back on track and remove hurdles to 100 percent coverage, this year's Finish Line report highlights three important recommendations:
Adopt "continuous eligibility" for ARKids A, as children in the lowest-income families in the state currently can lose their Medicaid coverage if their family's income fluctuates — something that's common for families with unstable work hours.
Conduct ARKids First outreach and enrollment targeted to children in immigrant families, as more than 80,000 of our state's children have at least one parent who is an immigrant.
Eliminate the budget amendment that prohibits state funds from being used on outreach and enrollment in Arkansas Works for adults, as getting more adults covered often results in more children having health insurance.
Download the full Finish Line report below to learn more about the state of health care in Arkansas and AACF's recommendations.