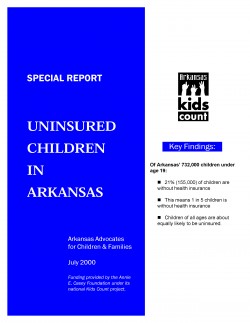 Investing in the health of our children is a necessary investment in our future. Regular access to health care supports healthy growth and development in numerous ways. Children are more likely to maintain a schedule of immunizations; developmental delays are more likely to be diagnosed and monitored; and childhood illnesses are less likely to have deadly consequences.
This early relationship with the health care system also fosters the belief that routine health care is a vital component of a healthy lifestyle. Unfortunately, too many children are not accessing the benefits that health insurance coverage provides. Approximately 120,000 of these children reside in Arkansas.
Two monumental programs provide health care to Arkansas children whose parents lack insurance coverage – Medicaid and ARKids First. Medicaid was established in 1965 as America's public financing program for providing health and long-term care coverage to low-income people. It is a means-tested entitlement financed by state and federal funds.