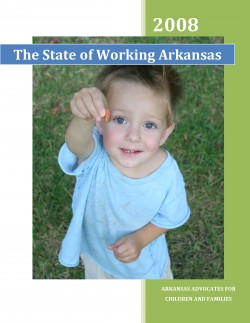 Arkansas's economy has followed the national downward slide over the past year or so, though experts still debate whether the "r" word — recession — truly applies. No matter what you call it, most low- and middle-income working Arkansans are feeling squeezed, as salaries fail to keep up with the skyrocketing cost of living. As Arkansas's next general election and legislative session approach, it is critical for child advocates to remind state and federal policy makers of the daily struggles facing most Arkansans. Children and families, especially our most vulnerable, should be their top priority when a new U.S. Congress and Arkansas General Assembly convene in 2009.
This report is Arkansas Advocates for Children and Families' (AACF) fourth installment of The State of Working Arkansas . In previous editions (2000, 2002, and 2005), AACF identified major issues that needed to be addressed to move families forward in an increasingly volatile state and global economy. In our 2008 report, AACF makes sense of the latest economic trends and what they mean for Arkansas's children and families.
Unless otherwise noted, this report uses the most recent data available from the Current Population Survey (CPS), a national survey of households conducted by the U.S. Census Bureau for the Bureau of Labor Statistics. Most data only goes through 2007, and in some cases, only 2006; therefore, it does not yet reflect the bad economic turn that has occurred in 2008. CPS data used in this report was compiled by the Economic Policy Institute (EPI), a nonprofit economic research organization based in Washington, D.C. For the past two decades, EPI has produced its own State of Working America report every two years. We gratefully acknowledge their support in making this data available to us.