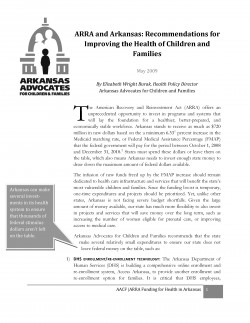 The American Recovery and Reinvestment Act (ARRA) offers an unprecedented opportunity to invest in programs and systems that will lay the foundation for a healthier, better-prepared, and economically stable workforce. Arkansas stands to receive as much as $720 million in new dollars based on the a minimum 6.33 percent increase in the Medicaid matching rate, or Federal Medical Assistance Percentage (FMAP) that the federal government will pay for the period between October 1, 2008 and December 31, 2010. States must spend these dollars or leave them on the table, which also means Arkansas needs to invest enough state money to draw down the maximum amount of federal dollars available.
The infusion of new funds freed up by the FMAP increase should remain dedicated to health care infrastructure and services that will benefit the state's most vulnerable children and families. Since the funding boost is temporary, one-time expenditures and projects should be prioritized. Yet, unlike other states, Arkansas is not facing severe budget shortfalls. Given the large amount of money available, our state has much more flexibility to also invest in projects and services that will save money over the long term, such as increasing the number of women eligible for prenatal care, or improving access to medical care.
Arkansas Advocates for Children and Families recommend that the state make several relatively small expenditures to ensure our state does not leave federal money on the table.