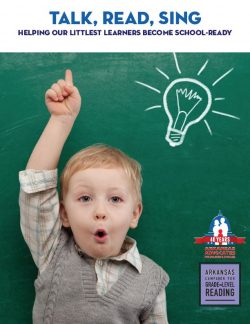 In partnership with the Arkansas Campaign for Grade-Level Reading and the Winthrop Rockefeller Foundation, today we're releasing a new policy brief on the importance of talking, reading, and singing with children from birth.
More than half of Arkansas children start kindergarten unprepared, lagging behind their peers in critical language, math, and social-emotional skills. Research shows that simple, everyday interactions with young children – like describing objects seen during a walk or bus ride, singing songs, or telling stories – can build their vocabularies, prepare them for school, and lay a strong foundation for lifelong learning.
Researchers have found a strong correlation between children's vocabulary at age three and their reading level in third grade. Parents and caregivers are key players in developing this early literacy. Pre-schoolers whose parents regularly read to them, tell stories, sing songs, and engage in other literacy activities become better readers and perform better in school.
Early literacy activities are even more important for children from lower-income families, who hear roughly 30 million fewer words than their more affluent peers. The average vocabulary of a low-income 3-year-old is roughly half that of her higher-income peer (500 words, compared to 1,100 words). The difference in both the number of words and the quality of conversation heard by low-income children as compared to children in higher-income
households is often referred to as the "word gap."
Many organizations and early childhood centers around the country have begun to address the need for increased "word nutrition" for our youngest learners, such as the "Talk With Me Baby" project in Georgia. Thanks to the Winthrop Rockefeller Foundation and the Arkansas Campaign for Grade-Level Reading, Arkansas families now have a wealth of resources to help them guide their children's early learning during this most critical stage of development.
The Arkansas Campaign for Grade-Level Reading has launched the "Talking is Teaching: Talk, Read, Sing" campaign to encourage parents to read, talk, and sing with their young children and to give them the tools to do so. The value is obvious. When 29 percent of our children from birth through age 5 live in families that earn $23,850 or less in income each year and when campaigns in other cities and states have shown promise and progress, it's time for Arkansas to invest.
Read more about the "Talk, Read, Sing" campaign, including Talking is Teaching and ReadyRosie in the complete publication here.