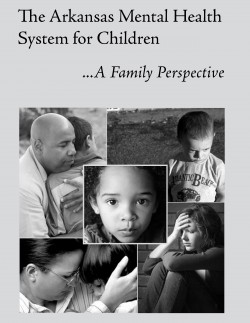 When new children come into the world, they bring a sense of hope and anticipation for their family. Families view this child as their hope for the future. For most families this anticipation culminates in the achievement of important milestones as the child grows up and moves into adulthood as a productive member of society.
For an ever growing number of families, however, the anticipation turns into hopelessness and frustration when their child demonstrates abnormal behavior or other signs of developmental delays. Families
seeking help for their child often become frustrated as they attempt to weave their way through a maze of encounters with their child's school, the legal system, and a complex social service system that too often produces dead end referrals, limited choices, and services that are inappropriate. In the end, many families lose hope. Their children "age out" of the system with little or no mechanism or coping with their mental illnesses.
In the summer of 2006, Arkansas embarked on a journey to develop a better system of care for children with mental illnesses by assembling a group of stakeholders and charged them with the task of identifying solutions. A system of care is defined as a coordinated network of community-based services and supports that is organized to meet the challenges of children and youth with serious mental health needs and their families. The current mental health system consists of a variety of providers, including schools, outpatient providers, residential treatment, and acute care facilities. These services, however, are not necessarily coordinated to ensure that children and their families are receiving the best possible services to meet their needs or to ensure availability of those identified services.
The first priority of this group was to ensure that parents and families were engaged in the process. As part of the stakeholders' work, the Arkansas General Assembly passed legislation to begin the process of improving the children's mental health system. The Children's Behavioral Health Care Commission was formed and new First Lady Ginger Beebe led a listening tour throughout the state to gain valuable insights from the experiences of parents. This report is a compilation of the information collected during the tour and includes suggestions from parents to the Commission for improving the children's mental health system.