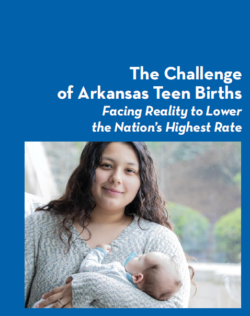 Arkansas's teen birth rate is the highest in the nation, but teenagers here aren't any more sexually active here than they are in other states.
The difference is access to contraceptives, especially the most effective kind, and lack of information because sex education isn't required here. Data show that the great majority of teen pregnancies and births are not planned.
This report calls for comprehensive sex education and better access to contraceptives, among other policy recommendations.
We want all young people in Arkansas to have every opportunity to thrive, but the staggering number of teens giving birth prevents that for far too many families. It puts young people at risk of not finishing high school or earning a college degree, of struggling to provide essential needs for their families. It contributes to health complications in mothers and babies, and to our already too-high child poverty rate.
This new publication reports that:
Arkansas's teen birth rate is almost double the national average (28 per 1,000 compared to 15 per 1,000 nationally).
The overwhelming majority of those are unintended pregnancies. Only 22 percent of teens who give birth in Arkansas reported that their pregnancies were intentional.
Arkansas teens' sexual behavior isn't different from those in other states, but their lack of use of contraceptives stands out.
The teen birth rate among White and Pacific Islander teens in Arkansas is far above the norm for their racial groups in other states.
Arkansas has made gains over the past two decades in lowering its teen birth rate, but other states have made progress much faster than we have. The report suggests that Arkansas can look to those states' successes for examples of how to address this crisis at home. AACF's report makes the following policy recommendations:
Mandate medically accurate sexual education in Arkansas's public schools.
Expand school-based health centers and allow them to provide access to contraception.
Increase funding for long-acting and reversible forms of contraceptives, as they are the most effective at decreasing teen births.
Provide funding for pregnancy centers, especially to provide after-birth care, including long-acting and reversible contraceptives.
Expand access to quality health care to Arkansas's communities with particularly high rates of teen births.