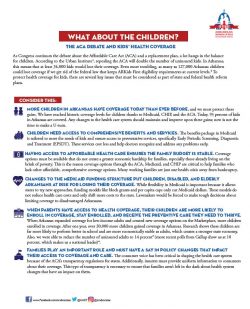 It's not just about coverage for adults. As Congress continues the debate about the Affordable Care Act (ACA) and a replacement plan, a lot hangs in the balance for children, too. According to the Urban Institute, repealing the ACA will double the number of uninsured kids. In Arkansas, this means that at least 34,000 kids would lose their coverage. Even more troubling, as many as 127,000 Arkansas children could lose coverage if we get rid of the federal law that keeps ARKids First eligibility requirements at current levels. To protect health coverage for kids, there are several key issues that must be considered as part of state and federal health reform plans.
Consider the following: 
More children in Arkansas have coverage today than ever before, and we must protect these gains. We have reached historic coverage levels for children thanks to Medicaid, CHIP, and the ACA. Today, 95 percent of kids in Arkansas are covered. Any changes to the health care system should maintain and improve upon these gains.
Children need access to comprehensive benefits and services. The benefits package in Medicaid is tailored to meet the needs of kids and ensure access to preventive services, specifically Early Periodic Screening, Diagnostic and Treatment (EPSDT). These services cost less and help doctors recognize and address any problems early.
Having access to affordable health care ensures the family budget is stable. Coverage options must be available that do not create a greater economic hardship for families, especially those already living on the brink of poverty. This is the reason coverage options through the ACA, Medicaid, and CHIP are critical to help families who lack other affordable, comprehensive coverage options. Many working families are just one health crisis away from bankruptcy.
Changes to the Medicaid funding structure put children, disabled, and elderly Arkansans at risk for losing their coverage. While flexibility in Medicaid is important because it allows states to try new approaches, funding models like block grants and per capita caps only cut Medicaid dollars. These models do
not reduce health care costs and only shift more costs to the state. Lawmakers would be forced to make tough decisions about limiting coverage to disadvantaged Arkansans.
When parents have access to health coverage, their children are more likely to enroll in coverage, stay enrolled, and receive the preventive care they need to thrive. When Arkansas expanded coverage for low-income adults and created new coverage options on the Marketplace, more children enrolled in coverage. After one year, over 30,000 more children gained coverage in Arkansas. Research shows these children are far more likely to perform better in school and are more economically stable as adults, which creates a stronger state economy. Also, we were able to reduce the number of uninsured adults to 14 percent in 2015 (more recent polls from Gallup show us at 10 percent). These coverage gains made Arkansas a national leader.
Families play an important role and must have a say in policy changes that impact their access to coverage and care. The consumer voice has been critical in shaping the health care system because of the ACA's transparency regulations for states. Additionally, insurers must provide uniform information to consumers about their coverage. This type of transparency is necessary to ensure that families aren't left in the dark about health system changes that impact on them.
Read more about how ACA repeal will affect Arkansas kids in our newest one-page issue brief. Plus, Marquita Little explains the impact in the short video below.