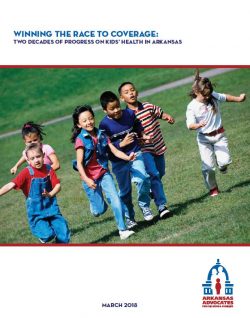 The annual Finish Line report provides a look at the status of health coverage for Arkansas children and their families. The report unveils key data on the progress we've made over the years and recommends additional solutions to ensure every child in Arkansas has a healthy start.
This past year marked a significant milestone in children's health care coverage in the state. In March 2017 we celebrated the 20th anniversary of the ARKids First program. Since the inception of ARKids First in 1997, we've made historic gains in health care coverage for our kids. Last year also marked the 20th anniversary of the passage of historic federal legislation that created the Children's Health Insurance Program (CHIP). Because of these affordable coverage programs, the number of uninsured Arkansas children under the age of 19 has dropped to a historic low of 4.1 percent. 
Yet, despite these gains, the future of health care for Arkansans is uncertain. The ongoing health care reform debate at the federal level means coverage for hundreds of thousands of Arkansas families is at risk.
To protect our gains and continue to make progress, this year's Finish Line report highlights five important recommendations:
Protect funding for Medicaid and CHIP, especially at the federal level as debate over the federal budget, the Affordable Care Act, and Medicaid continues.
Keep coverage affordable for the entire family by maintaining options for parents and caregivers, like the Medicaid expansion.
Ensure the enrollment and renewal process is seamless by addressing bureaucratic red tape and technical issues with the enrollment system.
Fully implement the Immigrant Children's Health Improvement Act (ICHIA) and provide outreach to improve coverage for immigrant children.
Continue to invest in consumer outreach and education to keep families informed about policy changes that impact their coverage options.
Download the full Finish Line report to learn more about the state of health care in Arkansas and AACF's recommendations.