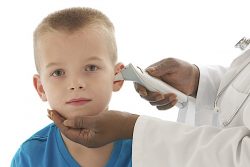 Nationally, Children's Coverage Gains Reverse Course
The number of uninsured children nationwide increased by about 276,000 children last year, the first significant increase in a decade, according to a new report released by the Georgetown University Center for Children and Families. An estimated 3.9 million children were uninsured nationwide in 2017.
The analysis shows that in Arkansas, the number of uninsured children increased from 30,000 to 33,000 in 2017. That represents a slight increase in the overall children's uninsured rate, from 4 to 4.4 percent. But the percentage of uninsured black children increased significantly during the same time period, from 1.5 percent to 4 percent. Children living just above the poverty line saw a big increase, as well, with their uninsured rate increasing from 3.2 percent to 7.5 percent.
"With an improving economy and low unemployment rate, the fact our nation is going backwards on children's health coverage is very troubling," said Joan Alker, executive director of the Georgetown University research center and a research professor at the McCourt School of Public Policy. She is the lead author of the report. "This trend is a warning sign to policymakers. Barring new and serious efforts to get back on track, there is every reason to believe the decline in children's coverage is likely to continue and may get worse for America's children."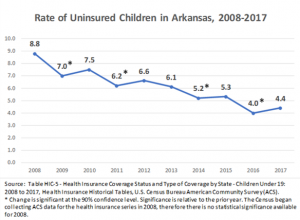 The report cites several possible factors, including national policy changes that mark a sharp reversal from previous efforts to reduce the uninsured rate for children and families.
"This report shows we're heading in the wrong direction when it comes to health coverage for our most vulnerable Arkansans. We must double down on efforts to find and enroll all eligible children in health coverage," said Rich Huddleston, executive director of Arkansas Advocates for Children and Families. "We will work with partners across Arkansas to help our children thrive. We know that when children have health coverage, they're able to get the care they need to stay healthy, enter school ready to learn and succeed in life."
This is the eighth annual report on uninsured children published by the Georgetown University Center for Children and Families, an independent, nonpartisan policy and research center founded in 2005 with a mission to expand and improve high-quality, affordable coverage for America's children and families. The Georgetown University Center for Children and Families is based at the McCourt School of Public Policy.
###
Arkansas Advocates for Children and Families is a statewide, nonprofit child advocacy organization established in 1977. Our mission is to ensure that all children and their families have the resources and opportunities to lead healthy and productive lives and to realize their full potential.