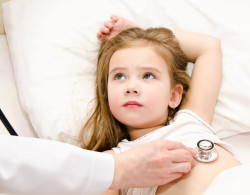 Note: This blog is second in a series of posts covering the findings in the 2016 Annie E. Casey Foundation Kids Count Data Book. 
Arkansas has continued to make impressive gains in reducing the rate of uninsured children in the state, according to the annual Kids Count Data Book released by the Annie E. Casey Foundation. With more than 95 percent of children enrolled in coverage, these historic improvements highlight the importance of providing affordable coverage through ARKids First. We can also celebrate these gains because of the "Welcome Mat" effect, which means tens of thousands of children enrolled in coverage when their parents signed up for the Medicaid expansion program (also known as the Private Option).
To get to 100 percent coverage, we need to adopt a federal option available to states to extend coverage to all legally residing children at no extra cost to the state. Thirty-one other states have already adopted this policy, which would allow many Hispanic and Marshallese children living legally in Arkansas a consistent source of coverage.
Despite the monumental progress we've made around kids' health coverage, our overall performance on child health lags behind other states. This year, the overall ranking for health dropped to 46th place, suggesting we've lost major ground around child health. When we look at specific issues like low birthweight babies and teens who abuse alcohol and drugs, our progress has been slow compared to other states.
We still have considerable room for improvement to ensure that all children in the state can get to a doctor when needed and receive preventative care and other critical treatment. Getting to number one is possible, but only if we make it a priority for every child in Arkansas to have access to comprehensive coverage and high-quality care.
See the entire 2016 Kids Count Data Book here. 
See Arkansas-specific data here.
Find out what it would take for Arkansas to be #1 here.