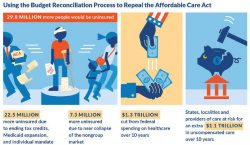 One of the greatest achievements in the past two decades has been the increase in the number of American children who have health care coverage. We just celebrated the fact that our nation achieved a historic milestone with health care coverage for 95 percent of children. In Arkansas, we can share in this success because we have dropped the rate of uninsured children to less than 5 percent.
Now Congress is considering an impractical plan that would undo this remarkable progress. According to a new Urban Institute report, repealing the ACA would cause at least 29.8 million people to lose coverage, including many children. The number of uninsured children would double nationwide if Congressional leaders rush forward with this risky plan to repeal the Affordable Care Act (ACA) without replacing it at the same time.
A repeal of the ACA would hit working families the hardest. The report estimates that 82 percent of the people becoming uninsured would be in working families.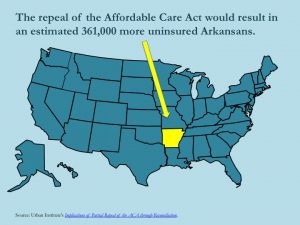 It would also create chaos in Arkansas's health care system, wreak havoc on our state budget, and threaten the economic well-being of families. An estimated 361,000 people would lose coverage – including many children, families, disabled individuals, and people with pre-existing conditions such as cancer, diabetes, and heart disease. Over a 10-year period, Arkansas would lose $10 billion in federal funding to meet the health needs of its residents. In 2019 alone, which is when the repeal's most budget-related components are expected to be implemented, Arkansas would lose $823 million. Healthy Arkansans ensure prosperous communities and are vital to state's economic success.
Our governor and legislature already have their work cut out for them to protect programs that help Arkansas families thrive, and the health care needs of our children and families won't disappear if they lose their coverage. A repeal would simply pass the buck and leave Arkansas with a huge hole in our budget and damage the health care safety net.
Voting to repeal the ACA without a replacement plan attached is a risky step that threatens the health of children and families. Our elected leaders in Washington, D.C., should put the needs of families first, by doing the hard work to negotiate and approve a replacement plan simultaneously.
The report is available in its entirety on the Urban Institute website.