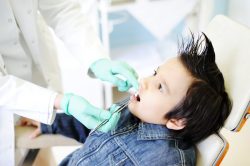 Recently, two bills were filed that will impact the fluoridation of local water systems. Under current state law, municipalities with at least 5,000 citizens maintain fluoride levels in drinking water set by the Arkansas Department of Health to combat tooth decay. Like other community water fluoridation programs, these levels are adjusted to the optimal amount to prevent tooth decay. Senate bill 299 would allow local municipalities to determine whether the water system should be fluoridated. House bill 1515 similarly allows local municipalities to determine if fluoride level should be adjusted, but applies to communities with 5,000 or fewer citizens.
Why is fluoride a big deal?
The Centers for Disease Control and Prevention (CDC) recognizes water fluoridation as one of the greatest public health achievements. Pediatric dental disease (childhood tooth decay) is the most common chronic childhood illness. Studies consistently show that fluoridation of the community water supply is the safest, most inexpensive, and most effective way to prevent dental disease. Also, fluoride is a naturally occurring mineral found in water. According to the Task Force on Community Preventive Services, water fluoridation reduces dental decay by 30-50 percent for children.
How does this impact families in Arkansas? *
Community water fluoridation is a proven method to provide oral health benefits to all Arkansans, regardless of income or geographic location. In 2011, three acts were passed to improve oral health and access to oral health services in Arkansas including Act 197, which requires all water systems serving 5,000 or more persons to maintain a fluoride content established by the state health department.
The Delta Dental of Arkansas Foundation made a commitment to fund the start-up costs of the fluoridation equipment associated with Act 197 and has invested millions to benefit 32 local communities in Arkansas. Because of Act 197, today more than 615,000 additional Arkansans are receiving the benefits of fluoridated water, and kids have equitable access to this affordable, preventative oral health program.
For more information about the water fluoridation in Arkansas, check out this fact sheet from the Arkansas Oral Health Coalition.
*Content for this blog post was compiled with the support of the Arkansas Oral Health Coalition.