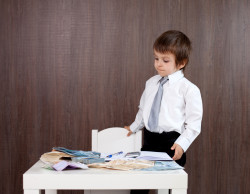 This Labor Day is a good time to think about the hundreds of thousands workers in Arkansas who could lose important tax credits soon. Parts of the two best anti-poverty tools in the nation are set to expire if congress fails to act: the federal Earned Income Tax Credit (EITC) and the Child Tax Credit (CTC). If that happens, more than 50 million Americans – including 25 million children – in working families will lose tax credits they count on to make ends meet.
Many of these people are the same working families who can't afford to take the day off on Monday. In Arkansas alone there are 19,500 food services workers who stand to lose all or part of their credits. This includes waiters and waitresses, cooks, and dishwashers. For those in the Manufacturing that number is 28,500. In total, 220,000 working Arkansans would lose some or all of their credits.
A single mom who works full time at the federal minimum wage earning just $14,500 per year would lose her entire CTC of $1,725. That money helps her pay for basics like groceries and school supplies. Money from tax credits also helps pay for things that allow people to stay employed, like child care and transportation. That is why the EITC and CTC are widely regarded as the best anti-poverty and pro-work tools ever enacted.
To find out more about why it's critical to save the EITC and CTC, read this report by the Center on Budget and Policy Priorities.  You can also read about why a state-level EITC in Arkansas would be a great addition to the federal tax credit program in our report here.