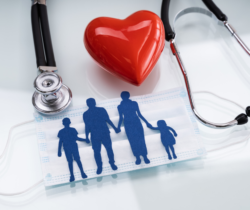 What is the health insurance marketplace?
The passage of the Affordable Care Act resulted in the development of the Health Insurance Marketplace. The Health Insurance Marketplace, operated by the federal government, allows states to provide affordable health coverage to those in need through state-based health insurance plans. Families with household incomes up to 400% of the federal poverty guidelines are eligible for Health Insurance Marketplace coverage.
The Marketplace gives premium tax credits to families based on their income level to help lower their monthly insurance premium payment. Enrollees are not required to use eligible premium tax credits to lower their monthly insurance premium payments. If individuals use some or none of their eligible tax credits, they'll get the difference as a refundable credit when they file for taxes. Individuals can purchase health insurance if they qualify for an open enrollment period.
Current status of marketplace coverage enrollment
More than 16 million Americans are enrolled in the Health Insurance Marketplace, including 100,407 Arkansans. With the unwinding of the Public Health Emergency, there will be an increase in Arkansans eligible for insurance through the Marketplace.
The Arkansas Department of Human Services (DHS) reported that more than 450,000 Arkansans are at risk of losing their Medicaid coverage during the six-month period between April 1 and September 30. DHS has already begun reviewing enrollment and ending coverage from those who don't qualify or who have not provided the required information. Since April, more than 100,000 Arkansans have lost their Medicaid and CHIP coverage through this process.
For three years, states were prohibited from terminating anyone's Medicaid coverage due to increased federal funding for state Medicaid programs during the COVID-19 Pandemic to ensure the most vulnerable populations had access to life-saving Medical Care. During the three-year Public Health Emergency, DHS continued to conduct re-determinations and process renewals; the agency just didn't disenroll anyone based on the information they gathered. Unfortunately, the agency identified 455,925 Arkansans they were unable to contact or were deemed ineligible based on the renewal information gathered. This group of Arkansans has been identified as the "extended" Medicaid population, and they make up 40% of the current Arkansas Medicaid population. DHS reports that this extended group will be the only group whose eligibility will be redetermined during the 6-month unwinding period, plus the usual annual Medicaid renewals that take place during that timeframe. During that time, Arkansas's total enrollment increased to 1.1 million, in part because those on Medicaid and CHIP weren't supposed to lose their coverage regardless of changes in circumstance. But the federally declared emergency ended April 1, and states have about a year to determine who still should be eligible. Arkansas, however, only has six months, due to the Arkansas Legislature passing Act 780 in the 2021 session. This restricted the amount of time DHS has to process Medicaid renewals at the end of the public health emergency.
If children and families are found to be ineligible, there should be a smooth transition to a different type of coverage. We should work to make sure that they maintain affordable health coverage on the federal Health Insurance Marketplace or through employee health insurance plans. For example, if their family income has increased to a level that makes them ineligible for Medicaid or CHIP, they still may qualify for a federally subsidized plan in the Marketplace. With Medicaid now covering 58.8% of Arkansas's children, and with more than a third of Arkansans being covered by Medicaid and CHIP, it's imperative that we ensure that families do not end up uninsured.
Marketplace Enrollment Trends in Arkansas Over the Years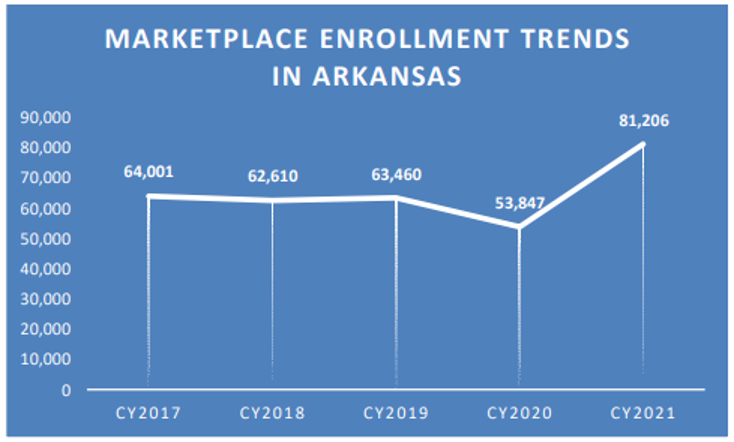 In comparison to Medicaid and the Children's Health Insurance Program (CHIP), there are fewer children who are enrolled in the Health Insurance Marketplace. But in 2022, more than 1.3 million children nationwide were receiving insurance through the Marketplace, a 29% increase compared to the enrollment levels in 2021. This enrollment increase resulted in 300,000 more children receiving health insurance. In Arkansas, almost 9,000 children under age 18 received insurance coverage through the Marketplace in 2022. The COVID-19 special enrollment period in 2021 is attributed to the increase, which provided families the ability to enroll in coverage without other qualifying life events that would have been required had the public health emergency not been taking place.
What can families do: How to apply
Due to the number of individuals expected to lose coverage, it's important that families have time to consider their options to apply for appropriate and affordable coverage. The federal government has announced that there will be a Special Enrollment Period for individuals who are no longer eligible for Medicaid and CHIP coverage. That will allow individuals to enroll in Marketplace coverage outside of the usual, once-a year open enrollment period.
Marketplace-eligible consumers who submit a new application or those who update an existing application between March 31, 2023 and July 31, 2024, and who inform that their last date of Medicaid or CHIP coverage was between that timeframe, are eligible to apply during the Special Enrollment Period. Consumers who are eligible will have 60 days after they submit their application to select a health coverage plan on the Marketplace. Their coverage will then start the first day of the month after they select a plan.
Something important to note is that after July 31, 2024, consumers who are unable to enroll in Marketplace coverage because they did not receive timely notice of termination of Medicaid or CHIP coverage can contact the Marketplace Call Center at 1-800-318-2596 (TTY: 1-855-889-4325) to request application during the Special Enrollment Period. Each caller's circumstance will be evaluated, and enrollment eligibility will be granted on a case-by-case basis.
Individuals can apply for Marketplace coverage through HealthCare.gov, through a certified partner that helps with applications during the enrollment period, or through the Marketplace Call Center. There is an understanding that transitioning from Medicaid and CHIP to other forms of coverage can be challenging for families, and this Special Enrollment Period was developed to combat any barriers to families maintaining affordable life-saving health coverage.