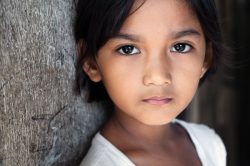 The Trump administration has increased threats to the well-being of children of immigrants with a series of ill-conceived policies that promote separation of families, from the U.S. border with Mexico to our own Arkansas communities.
It's not just the inhumane and unprecedented policy to separate parents from their children at the border, even when the parents have committed no crimes and present themselves to seek asylum. That's just one in a long list of new policies, including a proposal that would discourage lawfully residing parents from seeking services for their citizen children – even resources to buy food – for fear of losing the right to live in the United States.
This isn't the "pro-family" administration that the President promised to lead.
In Arkansas, more than 80,000 children have at least one immigrant parent. The great majority of those children are citizens, and our state's economic future depends on their success. So it's been disheartening, to say the least, to see the administration take on a series of policy initiatives that encourage separation of families.
The trauma that separation inflicts is harmful and unnecessary in a nation that claims to value children. The American Psychological Association said this week that separating families is not only needless and cruel, "but it threatens the mental and physical health of both the children and their caregivers." Negative outcomes include psychological distress, academic difficulties and disruptions in their development. In addition, caring for children left behind could further burden our child welfare, juvenile justice and mental health systems.
It's a fact of life that loving parents are critical to the well-being of children. And yet a series of new policies have already and could soon result in more separation of families. They include:
Announcing plans to end DACA, the Deferred Action for Childhood Arrivals program. It affects more than 5,000 young people in Arkansas. The President said he wanted a "bill of love" to ensure that Dreamers could continue to live and work here, but he hasn't encouraged Congress to pass anything that wasn't bogged down in initiatives that were doomed to fail legislatively.
Declaring that any families who present themselves at the border must be separated. President Trump said over the weekend that he wanted to "end the horrible law" that requires this, but there is no such law. It's his administration's "zero tolerance" policy, announced publicly in May. It's their own new interpretation of what's required, and previous Republican and Democratic White Houses didn't see it this way.
Proposing changes to the federal policy by which immigrants might be deemed a "public charge." The idea is to discourage lawfully residing immigrants from seeking publicly funded services, from health care to nutrition programs like SNAP. If they do, they would be deemed a public charge and be ineligible to renew their green cards or otherwise follow the path to citizenship. The result could be that tens of thousands of citizen children in Arkansas go without health coverage, nutritious food, and resources, including resources from Earned Income Tax Credits that their parents have earned working low-paying jobs. They might go without because their parents would have to choose between giving them the resources they need and losing their right to live in the United States. In addition to citizen kids, those affected could include many lawfully residing Marshallese children who just got ARKids First coverage for the first time, thanks to a changed proposed by Gov. Asa Hutchinson.
Declaring an end to Temporary Protected Status for hundreds of thousands of immigrants from Central America, Haiti, Nepal and Sudan. Those who currently have this status cannot return to their countries of origin because of unsafe conditions (which is why they were granted the status to begin with). And now they're losing their lawful status here.
Increasing arrests and deportation of people who have no criminal record in the United States, thus separating more hard-working parents from their citizen children. In the first year of this administration, U.S. Immigration and Customs Enforcement arrested far more people without criminal records – a 171 percent increase – than it did 2016. The arrests of people without records jumped from 46,000 to 109,000.
The Obama administration didn't have a perfect record on immigration. Nor did George W. Bush or Bill Clinton. Indeed, the system has been broken for decades, as elected officials lack the political courage to make needed changes. But the policies listed above are new, or stepped up, and they've purposely created an atmosphere of anxiety that sends even lawfully residing immigrant families into hiding. These American children can't live up to their full potential – and our communities can't thrive – with families in the shadows of our economy.