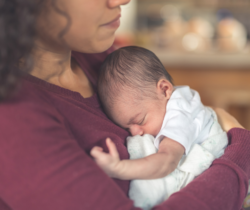 Every parent in Arkansas should have the chance to raise their children and live out their full life expectancy. Sadly, this opportunity is denied to too many mothers due to maternal deaths following childbirth.
The United States is the only developed country where the maternal mortality rate has been steadily rising. But most pregnancy-related deaths, one third of which happen between two and 12 months postpartum, are preventable.
One obvious policy solution to this crisis is providing health coverage before, during and after pregnancy. This coverage increases access to preventative care and improves outcomes for mothers and children and reduces maternal mortality rates. When moms have quality, affordable health insurance, they have the support and access to care they need to be healthy and care for their baby, especially in the foundational first years of brain development.
In Arkansas, women who are pregnant and have low incomes are covered by Medicaid, up through 60 days after the baby is born. Also in Arkansas, childbearing women are dying at a rate 15% higher than the national average. The situation is particularly dire for Black women in Arkansas, who face systemic racism, discrimination and implicit bias within the health care system. Arkansas's Black women made up just 19% of all births in the state yet represented 37% of all pregnancy-associated deaths in 2018.
Thanks to the American Rescue Plan Act, as of April 1, 2022, Arkansas has the option to extend Medicaid-funded postpartum care to 12 months.
But Arkansas has yet to take this opportunity to help new mothers get the care they need to help keep them and their babies healthy, without a lapse in coverage. Considering Arkansas has one of the highest maternal mortality rates in the nation, and considering in 2018, more than 60% of maternal deaths occurred postpartum, now would be an excellent time to extend postpartum coverage in Arkansas to 12 months.
You can learn more about postpartum care and the need for extending Medicaid postpartum coverage in our report, Postpartum Care in Arkansas: A Crisis of Coverage.