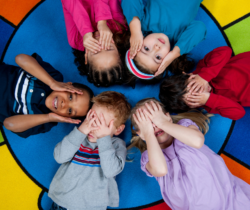 Arkansas should commit to serving at least all low-income preschoolers.
The 2021 State of Preschool Yearbook, released by the National Institute for Early Education Research (NIEER) at the Rutgers Graduate School of Education, provides an in-depth look at state-funded education for 3- and 4-year-olds nationally and in each state with a focus on enrollment, spending, and 10 policies that support quality education.
We know that the COVID-19 pandemic highlighted and intensified existing problems of access to high-quality early childhood education in Arkansas, and below are some of the findings from the Yearbook that we believe to be most significant.
There was a decline in enrollment during the 2020-2021 school year in Arkansas Better Chance (ABC) programs. Overall ABC programs served 17,325 children, a decrease of 2,872 children from the previous school year. The greatest negative impacts of this decline have been on low-income and Black, Indigenous and People of Color (BIPOC) families.
To address the enrollment gap to reach all low-income 3- and 4-year-olds, Arkansas would need to enroll 19,559 more preschoolers. The state share of that would cost $103,135,787.
Arkansas is falling behind in the number of 3-year-olds enrolled in a state-funded preschool program, with only 5,879 children (16%) enrolled during the 2020-2021 school year. Not only does two years of preschool support school readiness; it helps families get to work.
State spending for preschool programs in Arkansas went up by $31,315,917 — but this is only because of the additional federal COVID-19 relief funds and TANF funds. These funds only served as an offset for a flat level of funding for preschool that has existed for over a decade in Arkansas.
Arkansas met 8 out of 10 quality standard benchmarks, demonstrating that our existing preschool programs are, by and large, high-quality. It's worth noting, however, that the state's investment in preschool has been stagnating for years, threatening program quality.
All of Arkansas's children deserve access to high-quality preschool programs. But more work needs to be done to close gaps in enrollment. It is also critical that we support our preschool workforce, who face high rates of burnout and turnover, in addition to low wages.
The pandemic has made it even clearer that preschool programs are essential for Arkansas's young children and their families, and our state must continue to fund and expand access to high quality preschool.