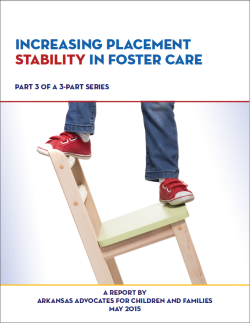 Too many children in Arkansas's child welfare system experience multiple placements, moving from one place to another, whether it is a family foster home or a residential facility. This is known as placement instability and it takes a toll on children. It creates emotional distress and a sense of not belonging. It can affect a child's ability to form secure, healthy relationships.
Arkansas is looking for ways to reduce the number of placements that children experience when they are in the foster care system through a demonstration waiver from the federal government.
Children in the Arkansas foster care system experience more placement instability compared to those in other states.
"About 36 percent of kids in other states experience three or more placements if they're in the foster care system for two years or less," says Jennifer Ferguson, deputy director of Arkansas Advocates for Children and Families (AACF). "But in Arkansas, that number is 52 percent. Over half of the children in our foster care system experience three or more placements in that same time frame."
AACF's brief Increasing Placement Stability in Foster Care, the third in a three-part series, examines data provided by DCFS during a five year period. It looks at how many children experience multiple placements while in the foster care system, and breaks it down by age, gender, race, and location.
As children stay longer in the foster care system, the risk of placement instability tends to increase significantly. And it also increases as children get older. Older children are likely to experience more placements than younger children.
Arkansas was one of seven states awarded a diligent recruitment grant by the federal government ($400,000 for five years). The project, Arkansas's Creating Connections for Children, focuses on the recruitment and retention of foster parents and volunteers and allows DCFS to hire additional staff to help with recruitment. Arkansas is also implementing new technology with the assistance of the University of Arkansas at Little Rock to map by zip code where the greatest needs are for foster homes. These efforts will help the state find more foster homes that are appropriate for a child's particular needs.
Ferguson says there are ways to make improvements.
"It's important to find foster families in a child's community so that they can remain there, especially in their school," she says. "It adds more stress when children not only have to adjust to a new family, but also to new teachers and friends. It's also important to find a foster family that is a good match for the child depending on the child's needs. Arkansas is implementing a new assessment tool (the Child and Adolescent Needs and Strengths Assessment). This new tool can better identify the needs of a child, which can help DCFS find a good match for them."