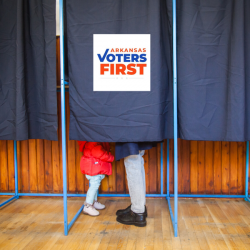 Every 10 years, following the census, voting districts are redrawn. Right now, a petition is circulating that would allow Arkansas voters to decide this November if our state should create a citizens' redistricting commission to determine how our voting districts will look over the next decade. Arkansas Advocates for Children and Families supports the creation of a citizens' redistricting commission, because we believe voters should choose their elected leaders, not the other way around.
Historically, across the country, redistricting has been used by both sides of the aisle as a political tool, instead of a critical method to ensure all voters' voices are heard and matter. Arkansas Advocates is especially troubled by the role redistricting has played in silencing voters of color and robbing them of their right to representation. We believe a citizens' commission would help ensure that the redistricting process is fair and would put the interest of voters, not politicians, at the forefront. Let's take the politics out of redistricting.
Help us put an amendment to create a citizens' redistricting commission on the ballot this November.
Learn more about the proposed ballot measure from Arkansas Voters First.