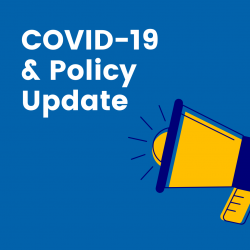 COVID-19 and Policy Update June 19, 2020
Policy and administrative changes continue to move quickly at the state and federal level in response to COVID-19, as well as ongoing protests related to racial inequities and police violence. Arkansas Advocates for Children Families will work to keep you updated on policy news at the end of each week.
More pandemic-related blogs and publications are available here. And here is the Race Equity section on our website.
Equity Updates 
Juneteenth: An American Holiday
The first documented record of enslaved Africans arriving in America occurred in 1619. "Some 20 and odd Negroes" landed at Point Comfort, in the English settlement that would soon become Virginia. Their arrival was the beginning of the system that we today call American slavery. On June 19, 1865, about two months after the surrender at the Battle of Appomattox, VA, Union General Gordon Granger arrived in Galveston, TX, to notify the enslaved people of the area of their freedom and that the war had officially come to an end. In recent years, many Black Americans have chosen to opt out of officially celebrating July 4, as a holiday of personal significance. July 4, 1776 was just another day of hard work with no pay for Black folks in America. It was not until 89 years later, on June 19, 1865 that all enslaved Black people in the United States received word of their freedom (on paper). Juneteenth is Independence Day for Black people in America. Read the full blog.
A Time of Celebration for DACA immigrants
The United States Supreme Court ruled on Thursday that President Trump can't rescind the Obama administration's Deferred Action for Childhood Arrivals (DACA) policy – at least not in the manner he went about it. Immigrant advocates celebrated the decision while also calling for a more long-term solution, including a path to citizenship for immigrants such as those temporarily protected from deportation by DACA. In Arkansas, the ruling continues the protections against deportation for about 4,500 Arkansas immigrants, and it appears to open the door to potentially new DACA applications. More information on the ruling is at this AACF blog, including information on how to keep up with the latest updates from immigrant advocacy group Arkansas United.
U.S. Senate Releases their Policing Reform Bill
Senate Republicans filed their own police reform bill this week, after House Democrats filed a reform bill last week. The Senate version includes measures that encourage police departments to not use chokeholds and no-knock warrants, though the bill would not ban them. The bill also would provide grants for body cameras, increase reporting requirements for use of force, and would make lynching a federal crime. Read more from NPR.
State Updates
Governor Hutchinson announces executive orders on liability and workers comp
In lieu of a special session of the State General Assembly, Governor Hutchinson announced three executive orders this week that involve business liability during COVID-19. All three executive orders will end when the Governor ends his emergency declaration on COVID-19. Though he said the General Assembly can reassess the orders when they convene in January.
The first executive order will legally classify COVID-19 as an occupational disease, allowing people who contract the disease at work to qualify for workers compensation. However, a causal connection between employment and the disease must be proved, which the Governor and the Speaker of the House, Matthew Shepherd, acknowledged can be difficult to prove. But the Governor said the order opens the door to coverage that otherwise would not have been possible at all.
The second executive order allows health care workers and providers to use crisis standards of care to treat COVID-19 patients and, as emergency workers, makes them immune from civil liability. The order does not extend to willful, reckless, or intentional misconduct
The third order grants civil liability protection for businesses from claims that are a result of exposure to COVID-19. It also does not extend to willful, reckless, or intentional misconduct. Under the order, it is presumed that the actions are not willful or reckless if the business owner substantially complies with public health directives. The order does not extend to workers compensation. It took effect Monday, June 15th and will continue till the end of emergency declaration.
110,000 Arkansans missing out on $101 million in stimulus payments
About 12 million Americans — including 110,000 in Arkansas alone — risk missing out on the stimulus payments provided through the recent CARES Act if they don't file a form to receive it, according to a new report from the Center on Budget and Policy Priorities (CBPP). Governors and other state leaders can play a central role in reaching these individuals, roughly 3 in 4 of whom participate in SNAP (formerly food stamps) or Medicaid, which states and counties administer. Read more.
Child Abuse and Neglect Cases Going Unreported 
At the recent joint meeting of the Arkansas House and Senate of Children and Youth Committee, it was noted by the Arkansas State Police, which handles the child abuse hotline, that COVID has decreased the number of calls received by the hotline. Before COVID, the average number of calls was 1,200 to 1,500 weekly. Since schools and many childcare centers have been closed, and mandated reporters, such as teachers, are not coming in contact with kids, the number of calls has dropped to 400 to 600 weekly. COVID has caused many parents to be more isolated from family, friends, and neighbors. And isolation can be a leading factor in neglect and abuse, especially when families have additional stress because of job loss.
UAMS COVID-19 Projection Model 
Recent modeling from the University of Arkansas Medical School predicts that cases of COVID-19 in Arkansas could reach 1,350 per day with over 3,000 hospitalizations by late September. UAMS Chancellor Cam Patterson said he is concerned with the health care system's capacity given the rise in cases. But on Thursday, the Governor said he believes the state has the hospital capacity it needs. Read more from Talk Business. Dr. Nate Smith said the pandemic has been challenging to model mathematically. He believes looking at the Department of Health's data and what is currently happening, can help guide efforts more accurately. So far this month, there have been over 92,000 COVID-19 tests conducted in Arkansas. As of Friday, there are currently 4,705 active cases.
Work Search Requirements Back for Unemployment Benefits
Secretary of Commerce Mike Preston reported this week that the number of people filing for unemployment insurance has been steadily declining over the last four weeks, from a high of 122,000 people to 106,000 people in the last reporting week, with an additional 32,000 self-employed and gig economy workers receiving Pandemic Unemployment Assistance. Secretary Preston also announced that the state will be reinstating the search for work requirement for unemployment insurance starting June 28th. People filing claims will have to certify that they are actively looking for work to continue to receive benefits. Arkansas's May unemployment numbers were announced on Friday. The unemployment rate dropped from April to 9.5 percent, with 46,000 more people becoming employed in May.
No-excuse absentee voting in November election
The Governor said on Friday that no-excuse absentee voting should be considered for November, if we still have the pandemic then. It has already been used in special elections this year. He emphasized that absentee voting has security measures in place to confirm the identity of voters. He said he is waiting to hear from the County Clerks and State Board of Election Commissioners on what measures they believe need to be taken in the November election. Currently, to vote absentee in Arkansas, voters have to provide one of four "excuses" for why they would be unable to vote at their polling place.
Long-term care facilities to allow visitors
Long-term care facilities in the state, including nursing homes, will reopen to visitors on July 1 in facilities that have completed COVID-19 testing and have met criteria outlined by the Department of Health. Outdoor visits will be preferred, though indoor visits will be allowed for residents who cannot be safely outside or when the weather is too hot. Communal dining, resident beauty salons, and activities will also begin to be allowed.
Fayetteville and Little Rock to Require Masks
On Tuesday, the Fayetteville City Council unanimously passed an ordinance requiring people to wear face masks in indoor, public places with some exemptions, and Little Rock Mayor Frank Scott announced his intention to sign an executive order to require the wearing of masks in public places. However, the Governor said that if a city ordinance is more restrictive than a state directive, it is overridden by the state directive. He said he does not anticipate taking action against Fayetteville for their ordinance, but will reevaluate what action might need to be taken if many other cities follow suit.
Federal Updates
2020 Census
Just a 1 percent undercount of Arkansans in the census could cause the state to lose nearly $1 billion in federal funds over the next decade for things like education, health care, and infrastructure. Right now only 56.4 percent of households in Arkansas have completed the census. You can complete the census at 2020census.gov, or you can complete the census by phone in English at 844-330-2020 or multiple other languages. Find out where your community stands with its response rate.
Resources
Pandemic EBT: The Arkansas Department of Human Services will issue Pandemic EBT (P-EBT) nutrition benefits to families of students who lost access to free or reduced-price school meals during school closings. Eligible students (those who received free or reduced priced meals before schools were closed on March 13, 2020) and families will receive food benefits on a new or existing SNAP Electronic Benefit Transfer (EBT) card to help replace the cost of the school meals. This will be a one-time payment of $319 per eligible child issued by early July 2020 (state estimate). If the family has never been on SNAP or it has been longer than six months, they will get a new EBT card in the name of the eligible child mailed to their address on file* with their school district. Information for families in English and in Spanish.
Arkansas United COVID-19 Page in Spanish: Para información sobre COVID-19 en Español
Marshallese Education Initiative COVID-19 Page in Marshallese: Ñan melele ko ikijeen COVID-19 ilo kajin Majõl
Marshallese Call-In Line: UAMS Northwest has a dedicated call-in center for people who speak Marshallese and suspect they need a COVID-19 test. Calls will be answered from 9 a.m. to 5 p.m., Monday through Friday. The number is (479) 713-8708. UAMS has also established an interpretation line for health care providers to use if they need help serving Marshallese patients. It's available 24 hours a day. For more information about that resource (for health providers only), contact Stacia Dean at SNDean (at) uams.edu or Betsy O'Connor at GEOconnor (at) uams.edu.
Applying for Assistance Programs: Legal Aid of Arkansas created a fact sheet breaking down how to apply for Medicaid, SNAP food assistance, and unemployment benefits. A Spanish version is here. Legal Aid has also created a comprehensive guide, which is available here in Spanish.
Receiving Stimulus Payments: Arkansas Advocates created a fact sheet on how to receive the federal Economic Impact Payment from the CARES Act.
Applying for Health Care Coverage After Losing a Job: People who have lost their workplace health care coverage in the last 60 days due to the pandemic may be eligible for a marketplace qualifying health plan. You can determine your options with the Arkansas Insurance Department at 1-844-355-3262 or www.myarinsurance.com.
Guidance for those with Underlying Health Conditions: The CDC has produced these guidelines for those with underlying health conditions during the COVID-19 crisis.
Arkansas 211: 211 is a free, statewide telephone service that connects individuals in need to important community services in the state of Arkansas like food pantries, health programs, crisis intervention, shelters, and more. Just call "211."
Applying for Unemployment Insurance: There is a new option to apply for unemployment insurance online or by phone. You can apply here.
Self-Employed Workers Unemployment Assistance: Gig and self-employed workers can now apply for Pandemic Unemployment Assistance here.
Applying for Medicaid, ARKids First (children's health insurance), or SNAP (formerly known as food stamps): The Department of Human Services has made changes encouraging the public to avoid in-person visits to DHS county offices and is allowing fewer people in the lobbies at the same time, increasing wait times. People are encouraged to apply online at www.Access.Arkansas.gov or to use the phone application option by calling 1-855-372-1084. County offices will be installing drop-off boxes for paper applications. And required SNAP interviews may be conducted by phone rather than in person.
WIC (nutrition assistance program for Women, Infants and Children): Contact your county Department of Health office for information on how to apply.
Department of Health Updates: You can get the latest COVID-19 updates from the Department of Health here.
Finding a food pantry: Some pantries may be closed, so call ahead to confirm.
Food Bank of Northeast Arkansas food pantry network
Harvest Regional Food Bank (Texarkana)
Food Bank of North Central Arkansas