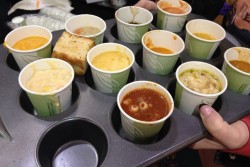 Our 2020 Soup Sunday events are coming up soon — January 26 in Rogers and February 23 in Little Rock. As you get ready to head to one of the most fun events of the year, you may find yourself wondering, along with many others, why do we always remind you to remember your muffin tins?
Here's the deal: As you may know, dozens of delicious soups are available for you to sample to your heart's content at our Soup Sunday events. We are happy to supply you with a little cardboard tray to carry around your soups. But we didn't always do that. In the early days of the Soup Sunday event, which first started 39 years ago in Little Rock, we didn't have trays. Moms and dads had a hard time juggling all the soup cups, so they started bringing muffin tins.
So, a tradition began. Attendees started to bring muffin tins to carry more soup cups samples, and some big fans of Soup Sunday even decorated special tins that they continue to use every year. If you see someone at Soup Sunday with a decorated muffin tin, they're probably longtime fans of the event and supporters of Arkansas Advocates for Children and Families. Some others like to bring their own tin because it cuts down on waste.
It is by no means required, however! If you don't bring a muffin tin, don't fret. We'll have a tray for you.
We look forward to seeing you at Soup Sunday! We don't just have soups; there will be bread, desserts, a silent auction and entertainment!