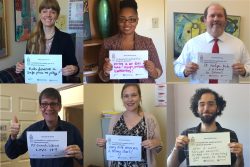 With Thanksgiving just around the corner, we're thinking now more than ever about the many things we're thankful for. Quality pre-K programs in Arkansas are at the top of our list.
In addition to giving our children the educational foundation they need to succeed in Kindergarten, a high-quality pre-K also helps them learn social-emotional skills that will set them up for success long after they've learned their ABCs. Additionally, our quality pre-K programs benefit the state, preparing the next generation with the skills they need to fill a variety of important jobs in Arkansas.
With these and the many other benefits of quality pre-K in mind, we want to hear from you. Join AACF and Good2Great for a #ThankfulForPreK social media campaign November 16-23, and tell us why you're thankful for quality pre-K in Arkansas.
How to participate in #ThankfulForPreK:
Download a sign here and our handy instructions here. Write down why you're thankful for quality pre-K programs in the state.
Have someone take your photo, or take a selfie with your sign.
Post your photo on social media, tag us (@AACF on Twitter; @ArAdvocates on Instagram and Arkansas Advocates for Children and Families on Facebook), and use the hashtag #ThankfulForPreK!
We'll include your photos in a Thanksgiving-Day slideshow on Facebook and in follow-up blog posts!