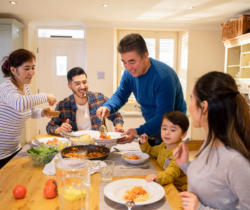 Even as food prices rise, Arkansas continues to make it harder than necessary for low-income families to qualify for food assistance programs.
In our state, an asset limit prevents families from obtaining SNAP benefits – the Supplemental Nutritional Assistance Program – if they have too much money in their bank accounts or their car is valued at a higher rate. How much is too much? Anything more than $2,500 for most families. If they have set aside more than that for emergencies like car repairs, they'll lose their SNAP benefits even if they meet the income requirements. And it doesn't matter whether the family has children or not – the limit is the same.
We don't have to do it this way.
We're one of only nine states that have the most restrictive asset limit possible under federal law. Why? In Arkansas, we take pride in providing the rest of the country with quality meat, rice, soybeans, fruit, and other healthy foods. We shouldn't be making it harder for our own essential workers to put food on the table.
SNAP helps more than 340,000 Arkansans afford food – more than 1 in 10 of our state's residents. Most families that participate, about 74 percent, have children in the home. On average, each household member gets about $5 in SNAP benefits, per day.
In Arkansas, 117,000 workers live in households that participate in SNAP. Top occupations of workers participating in SNAP include cashiers, home health aides, cooks, laborers and drivers. Thirty percent of nursing home, psychiatric and home health aides in Arkansas participate in the SNAP program. If we want these essential workers to achieve the economic security they need to meet their families' needs, we must allow them to build their own modest savings accounts before losing SNAP benefits.
Most states have gotten rid of their asset limits altogether, recognizing that other eligibility guidelines (like income limits) are enough to measure whether a family qualifies. Though asset limits were designed to ensure that only needy families received public help, most states have recognized that the limits actually run counter to the goal of helping families advance economically. To move families toward financial independence, even modest savings accounts are essential.
Among those states that still have asset limits, most have raised them much higher than Arkansas's limit. States have the option of lifting the restriction through a federal policy known as "broad-based categorical eligibility." So far, 41 states have used this flexibility to make the SNAP program work better for hungry families.
But Arkansas has not done so. In fact, the Arkansas Legislature passed a law in 2017 that specifically bars the state from making such changes. We fail to take advantage of these flexibilities even though families are suffering in Arkansas: We have the second-highest food insecurity rate in the nation. Why make it even harder than it already is for families?
Like all aspects of public policy, hunger is a racial equity issue. While most families facing food insecurity in Arkansas are white, people who are Black, Indigenous or Other People of Color (BIPOC) are more likely to experience hunger. At the height of the pandemic in Arkansas, food insecurity rates rose to about 11 percent of White households with children, as compared to more than 23 percent for both Black households and Hispanic/Latino households.
Arkansas's SNAP asset limit would be higher than $8,000 if it had just kept up with the cost of living since the limit was first established in 1977. Many bankers, retailers and landlords support raising the asset limit, because they know how important it is for families to be able to build emergency funds to meet their needs.
In the 2021 legislative session, a bill by Sen. Jonathan Dismang would have allowed the state more flexibility to increase the amount. While a committee recommended the bill, it failed to pass the full Senate.
In this election season, it's a good time to ask candidates why. Here are some questions we would suggest.
When they meet against next year, we hope our state legislators will consider changes to SNAP that would make the program work better for hungry Arkansas children. Our state policymakers have intentionally set it up this way. But they can fix that.