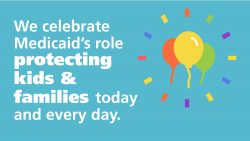 Last week, the Senate did the right thing by voting down the "skinny bill" that would have kicked millions off their health coverage and significantly raised health insurance premiums.
This week, as we mark the anniversary of Medicaid's passage into law, we celebrate our nation's historic commitment to care for those who need it most and renew our commitment to fight to protect it on their behalf. Medicaid plays a vital role in protecting Arkansas's most vulnerable by providing life-saving health coverage to kids, seniors, and people with disabilities.
Let's now move forward with a bipartisan, transparent process to address rising health care costs and stabilize the insurance market, but not on the backs of the most vulnerable Arkansans. Time and again, we've seen proposals to gut Medicaid as a way to fund tax breaks for the wealthy. That's a direct attack on kids — who make up over 44% of Medicaid/CHIP enrollees in Arkansas — and it's unacceptable.
Join Arkansas Advocates for Children and Families, Arkansas Citizens First Congress, Medicaid Saves Lives, and the Arkansas Chapter of the American Academy of Pediatrics as we recognize the 52nd anniversary of the Medicaid program and highlight the important role it plays in the lives of local Arkansas families. On the anniversary of Medicaid, and every day, we should remember — and protect — the role it plays in taking care of our kids and families.
When: 5:30-6:30 p.m., Monday, July 31, 2017
Where: Old Supreme Court Chamber, second floor of the Arkansas State Capitol, 500 Woodlane Street, Little Rock