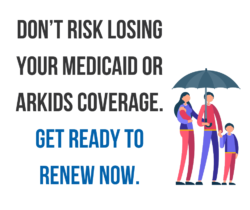 The Arkansas Department of Human Services began sending out notices in February for people to renew their enrollment in Medicaid. 
Beginning on April 1, some Arkansans enrolled in Medicaid will begin to lose their coverage for the first time since early 2020.
Throughout the past three years, the Arkansas Medicaid Program has continued to reach out to Medicaid recipients to have up-to-date information on file to determine their Medicaid eligibility. The Arkansas Medicaid Program has determined that 422,112 Medicaid recipients (37% of those currently enrolled) are either ineligible for Medicaid coverage due to information received from recipients (like an income change) or because they have been unable to contact clients based on inaccurate contact information on file. DHS estimates between 15 and 30 percent of this extended Medicaid population will be disenrolled in the coming months.
Arkansas Advocates for Children and Families wants to help ensure that Medicaid eligible Arkansans receive important Medicaid documents and maintain coverage during this time.
Here is what you can do to avoid losing Medicaid coverage:
Call the Update Arkansas hotline at 1-844-872-2660.
Go online at access.arkansas.gov. Medicaid clients can log in or create an account, and then add your current contact information.
Visit a local DHS county office to ensure your contact information on file is correct.
If you unfairly lose your Medicaid coverage:
You will have 30 days to file an appeal and request a fair hearing for your Medicaid coverage. The DHS Office of Appeals and Hearings must get your request for a hearing within 30 calendar days of the date on the letter or your request will be denied. Those who file a request for a fair hearing will automatically have their coverage continued until there is a hearing decision.
You may email your request to DHS.Appeals@dhs.arkansas.gov or you may send your request by mail to:
Department of Human Services 
Appeals and Hearings Section
P.O. Box 1437, Slot N401
Little Rock, AR 72203-1437
If you do lose your Medicaid coverage due to a change in your Medicaid eligibility for services:
There will be a special enrollment period for health coverage on the federal Healthcare Marketplace for people losing their Medicaid coverage due to the end of the public health emergency. Between March 31, 2023 and July 31, 2024, people who submit a new application on healthcare.gov and attest to losing coverage due to the end of the public health emergency, can qualify for coverage. After submitting an application, they will have 60 days to select a Marketplace Healthcare Plan.
Get 2023 health coverage. Health Insurance Marketplace® | HealthCare.gov