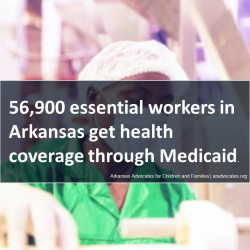 Federal Policymakers Must Increase Medicaid Funding and Maintain Strong Beneficiary Protections
Medicaid enrollees working in essential frontline industries are among those at risk if federal policymakers fail to provide needed increases in Medicaid funding or weaken protections for program enrollees, according to a new analysis from the Center on Budget and Policy Priorities. With the economic fallout from the COVID-19 pandemic creating a growing need for Medicaid health coverage and a huge drop off in state revenues, some states have cut Medicaid and other health programs. Others, including Arkansas, are likely to follow suit unless federal policymakers provide additional funds and maintain strong protections for Medicaid enrollees. Among those at risk from Medicaid cuts are thousands of Arkansans working as home health aides, grocery store workers, food production workers, or in other jobs that put them on the front lines of the pandemic. About 30 percent of low-income essential workers in Arkansas get health coverage through Medicaid.
The thousands of Arkansans on the front lines are making great sacrifices every time they go to work. The least our Congressional representatives can do in return is ensure that the health coverage that so many frontline workers rely on stays intact.
With Congress and the Administration currently debating another COVID-19 response bill, the stakes are high for Medicaid. With states already proposing – and in some cases, making – cuts, time is of the essence. States can't endure a lengthy wait for federal aid before they need to start cutting, because the longer they delay, the fewer months they have in the fiscal year over which to spread the cuts. In past recessions, especially when federal aid was insufficient and strong beneficiary protections weren't in place, many states cut Medicaid eligibility, made it harder for people to get or stay covered, dropped coverage of certain benefits, or cut payment rates for providers serving Medicaid enrollees.
Unfortunately, the plan put forward last week by the Senate does not include additional increases in the federal share of Medicaid costs (the federal medical assistance percentage, or FMAP), which are needed to prevent harmful cuts. It also fails to include any other new fiscal aid to states to help them make up for enormous revenue shortfalls, which is needed to prevent cuts to a wide range of public services, potentially including Medicaid and other health coverage. Equally troubling, lawmakers may seek to weaken important maintenance of effort protections enacted in March, as they did during negotiations on the CARES Act in April. These protections prevent states from cutting Medicaid eligibility or taking away people's coverage during the public health crisis.