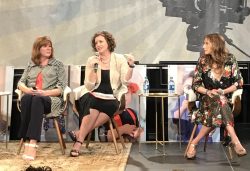 One thing business leaders, philanthropists, parents, child advocates – and even Hollywood – can agree on: The critical importance of quality early childhood education to our nation's future.
At the Bentonville Film Festival on Friday night, Arkansas Advocates for Children and Families teamed up with the Helen Walton Children's Enrichment Center to show the first part of the documentary series "The Raising of America." It highlights the challenges that communities and our nation face – both in the short- and long-term – when families have few affordable child care options and when we don't prioritize investment in quality early childhood education. It delves deeply into the science of brain development to show how early inequities and public policy decisions make a difference in children's success.
The panel discussion afterward featured Kyle Peterson, executive director of the Walton Family Foundation, as moderator; Rob Dugger, co-founder of the national early childhood advocacy group ReadyNation; Nelson Peacock, president and CEO of the Northwest Arkansas Council; Michelle Barnes, executive director of the Helen Walton Children's Enrichment Center; Laura Kellams, Northwest Arkansas director of Arkansas Advocates; and Alysia Reiner, an actor and film producer.
They all agreed that we'd be selling our state short – both in terms of economic development and individual families' success – by continuing to place a low priority on investment in quality early childhood education.
"It's so obvious, isn't it?" Peterson asked the crowd of about 100 people gathered to watch the film. He said one of the founders of the Walton Family Foundation, Helen Walton, recognized the importance of quality child early education decades ago when they helped establish her namesake Children's Enrichment Center in Bentonville.
Dugger, who retired from a career in fund management and investing, now travels throughout the country for ReadyNation, encouraging policymakers to invest in early childhood education. If they want young people in their late teens and early 20s to be physically fit, educated, off drugs and ready to work, they need to start investing early, he said.
The problem is that policymakers and even many business people aren't making their investment decisions with their sights on 30-, 20- or even 10-year-outcomes, Dugger said. But he urged them to do so. He said that when businesses are thinking about where to locate, one of the biggest factors in their minds is: "Do I want to buy that state's problems?"
Peacock said that in Northwest Arkansas, we have a lot of work to do. Economic indicators show that a lack of affordable, quality child care is holding back the region's economic growth. Only about 61 percent of women with children under 6 are part of the workforce in Northwest Arkansas, compared to 70 percent nationally. That's a lot of economic potential lost, he said, and it's a statistic that makes us less marketable to businesses considering relocation.
Peterson said the documentary really underscored the importance of investing in children's success and the price we all pay when we don't.
"It's sobering. I hope all of us feel that," he said.
Many who attended the event pledged to become part of Arkansas Advocates' Invest Early Coalition to advocate for public policy change to increase access to quality early childhood education at the state level. A meeting of the coalition is scheduled from 11:30 a.m. – 1 p.m. on Tuesday, June 5th at the Center for Nonprofits in Rogers. If you're interested in attending or learning more, contact Laura at (479) 927-9800 or lkellams@aradvocates.org.