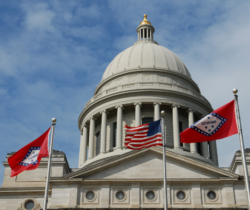 Today, Governor Sarah Huckabee Sanders previewed what's to come in her long-awaited education package. We're still waiting for the actual legislation to be made available so that we can see the specifics, but in the meantime, here are a few takeaways from what we know so far.
Right out of the gate, Gov. Sanders talked about the importance of increasing Arkansas's ability to recruit and retain quality teachers. To that end, the Governor is proposing moving the minimum starting salary for teachers from $36,000 to $50,000, a commendable bipartisan goal that is also included in the proposed Arkansas RAISE Act, or House Bill 1268, filed last month.
The Governor is also proposing complete student loan forgiveness for teachers working in high need schools. These steps would go a long way to helping our state recruit and retain a highly qualified and diverse educator workforce.
She also proposed increasing access to literacy coaches and tutors for students who are falling behind in reading and would create a dual diploma program for students in high school that would help them choose a pathway that fits their needs. The Governor also mentioned streamlining the early childhood education system, but further details on that are needed.
A significant piece of this $300 million package is its emphasis on empowering parents, better known as school choice. The legislation would create "education freedom accounts" that parents could use to send their children to private or religious schools, or to homeschool their children. In the first year of this program, only students most in need would qualify, but within three years it would be fully available to all of Arkansas's students.
While there are still many questions left to be answered, it's clear that this aspect of the proposal will be incredibly detrimental to our public school system. Our public schools are economic pillars of our communities, especially in rural parts of our state, and we should be focused on doing everything we can to build them up. Arkansas Advocates has long argued that Arkansas should focus our taxpayer dollars on improving public schools (which educate over 90% of students in the state), rather than diverting students and funding away from them.
We have to be careful in Arkansas not to create inequity with our public education dollars. Not just because it's the right thing to do, but because the Arkansas Constitution requires it. Article 14 of the Constitution states that Arkansas "shall ever maintain a general, suitable and efficient system of free public schools and shall adopt all suitable means to secure the people the advantages of education."
That means the state must provide an adequate and equitable education for all children, according to the state Supreme Court's Lake View ruling. If public money flows away from public schools, will there be enough funding left for public schools to meet that constitutional mandate?
There are components of this package that we may enthusiastically support, but "empowering" some Arkansas families should not come at the expense of others.