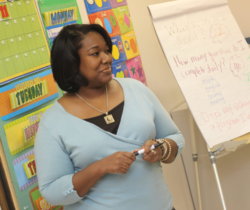 While there's a lot of disagreement about how to improve educational outcomes in Arkansas, one thing is clear: We can't do it without a raise for our public school teachers.
Their salaries are low compared to the rest of the country, and even when compared to states closer to home. If we want to improve student achievement, we have to recruit quality teachers and make sure they're paid well enough to keep them in the classroom long-term.
Last June, former Governor Hutchinson proposed a $4,000 salary increase, which would have raised the minimum salary to $46,000, and the average teacher salary to about $60,000. And while this proposal did not come to fruition, it started a larger conversation in our state about teacher pay.
Through the process to study educational adequacy undertaken by the Arkansas House and Senate Education Committees, we saw a proposed $4,000 salary increase at the end of last year. And last month, Rep. Tippi McCullough and Sen. Greg Leding introduced HB1268, the RAISE Act, which aims to raise teacher salaries in our state by $10,000 and would put the minimum starting salary at $50,000.
We are still awaiting the Governor's education omnibus bill, which may also include a proposed teacher salary increase, but for now let's look at how Arkansas currently measures up.
The chart below highlights both the starting salaries and the average salaries for educators in our region for the 2020-2021 school year.
| | | |
| --- | --- | --- |
| State | Average Starting Salary | Average Salary |
| Arkansas | $35,803 | $51,668 |
| Louisiana | $42,185 | $52,472 |
| Missouri | $33,234 | $51,557 |
| Mississippi | $36,653 | $46,862 |
| Oklahoma | $38,074 | $54,762 |
| Tennessee | $39,024 | $52,871 |
| Texas | $44,527 | $57,641 |
*Source: https://www.nea.org/resource-library/educator-pay-and-student-spending-how-does-your-state-rank
Arkansas's starting salary and average salary rank near the bottom of both lists, and nationwide Arkansas ranks 48th in starting salary and 46th in overall average salary, according to the National Education Association's database.
This discussion is being had all over the country, as well as here in our region. Last year, Mississippi passed a salary increase that now puts the starting salary for educators at $41,500, beginning this academic year. States like Oklahoma and Texas are also considering major increases during their current legislative sessions.
The case for raising teacher salaries is clear. Low teacher salaries can be discouraging for students looking to enter the field, leading to difficulty with competitively recruiting. Nationwide, and here at home, educators are leaving the field to work in other industries where they can make more money, or they have to work a second job just to make ends meet. Raising wages benefits students too; research shows that increased teacher pay is associated with student gains. Simply put, when our teachers are paid more, our students will achieve more.
There's a lot of talk about shifting toward an expansion of our private school voucher program. Instead of shifting resources and funding away from our public schools, we should be working to ensure they have the resources they need. Raising teacher salaries should be a core part of that. We require and expect a lot of our educators, and they should be appropriately paid if we want to retain our current workforce and become competitive with the next generation of educators.