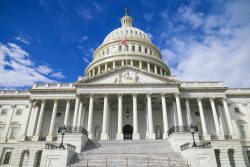 The Senate COVID-19 relief plan unveiled Monday doesn't meet the needs of Arkansas's families and doesn't address our looming state fiscal crisis, which means it will make the recession longer and more painful, Rich Huddleston, Executive Director of Arkansas Advocates for Children and Families said in a statement today.
"Nearly one in four Arkansas renters is behind on rent because of the public health crisis and recession. This crisis is bigger than any in our lifetime, but the Senate proposal doesn't meet the needs of our state or the moment.

There is no increase in SNAP benefits to help people buy food for themselves and their families, no funding for homelessness services or additional rental vouchers, and substantially less money for laid-off workers even though high numbers of COVID cases mean that many people are unlikely to be able to return to work soon.

And it does not include nearly enough aid to state and local governments to prevent layoffs of teachers and public workers and cuts to schools, Medicaid, or critical public services.

Sens. John Boozman and Tom Cotton must put people first by calling on congressional leaders to do more and pass a better relief package, especially for state and local governments and low-income Arkansans who have been hit the hardest by the pandemic and are facing the greatest financial hurdles."

Rich Huddleston, Executive Director
New research released last week by the Center on Budget and Policy Priorities shows the number of people struggling to get enough to eat has increased dramatically and a huge number of people are falling behind on rent — just as the national moratorium on evictions expires. Arkansas saw a 24 percent increase in SNAP participation between February and May 2020. While tens of millions of people are facing serious financial hardship, Black, Latinx, Indigenous, and immigrant people have been hit the hardest because of structural racism that creates disparities in education, employment, housing, and health care. As we explored in our recent report on SNAP, Black and Hispanic households were twice as likely to experience food insecurity as White households prior to the pandemic. The public health crisis has exacerbated that inequity.
During these negotiations, Congress must prioritize support for people hard-hit by the crisis by making sure they get the help they need and work to prevent states, cities, and towns from making deep budget cuts that will hurt tens of millions.
Arkansas Advocates for Children and Families calls on Congress to immediately negotiate a bipartisan agreement that:
Provides additional federal funding for Medicaid programs and direct grants to states, territories, and tribes to protect core public services such as public education, healthcare and nutritional support, in addition to aid for local governments;
Temporarily increases SNAP benefits and housing assistance so people can get enough to eat and keep a roof over their heads;
Temporarily makes the Child Tax Credit available to the lowest-income children and expands the Earned Income Tax Credit for low-paid workers not raising kids in their homes;
Creates an emergency fund for states to help people who are falling through the cracks and to create subsidized jobs programs when workers can participate safely;
Continues expanded unemployment benefits;
Reinstates Medicaid eligibility for adults born in the Marshall Islands who are lawfully residing in the United States; and
Provides more relief for the struggling child care industry.