Prior to the beginning of the COVID-19 pandemic, food insecurity was a problem for over 15 percent of Arkansas households, higher than the national average of 11 percent. In fact, during fiscal year 2019, 1 in 9 Arkansans benefited from the Supplemental Nutrition Assistance Program (SNAP). Historical high levels of unemployment, due to the closure of many businesses in the wake of the pandemic has caused that number to increase. The Arkansas Food Bank reports that since March 2020, the number of food insecure Arkansans has increased to 17 percent, with projections estimating that number could climb to at least 22 percent. These negative outcomes disproportionately impact Black and Latinx communities. According to recent data found by the U.S. Census Bureau, Black and Latinx Arkansans are far more likely to find themselves without enough food to eat, when compared with the population of White Arkansans.
The average SNAP household receives a monthly benefit of about $1.40 per person per meal, which does not cover the cost of a meal in 99 percent of US counties. The Health and Economic Recovery Omnibus Emergency Solutions (HEROES) Act, which was passed by the House in May includes a provision to temporarily increase monthly SNAP benefits by 15 percent. This amount equates to about $25 extra per person per month, or about $100 more for a family of four.
Not only is SNAP the most robust federal program in assisting low-income Americans keep food on their tables, it is also one of the most effective forms of economic stimulus because it quickly injects money into the economy – people always need food. Low-income individuals generally spend all their income to meet daily needs such as shelter, food, and transportation. Every SNAP dollar that a family receives enables the family to spend an additional dollar on food or other essential items.
How Congress Can Help Food Insecure Arkansans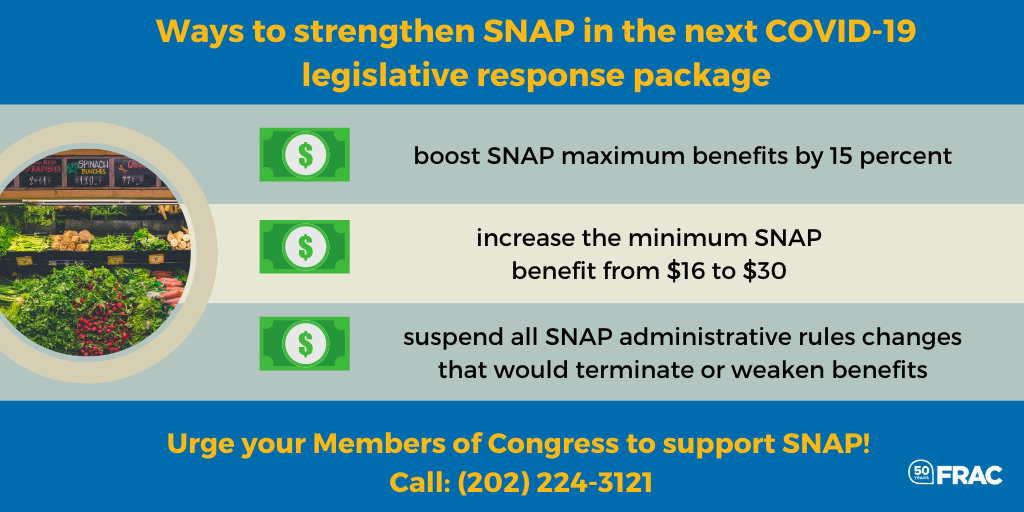 Today (Monday, July 20) Senate Republicans return to Washington, DC, from their two-week recess. Over the course of this week, they are expected to unveil a relief package in response to the HEROES Act
Advocates across the nation are hoping the next relief package is inclusive of the needs of the most vulnerable Americans and prioritizes support for people who were largely left out of the first two relief packages, including people with low incomes, immigrants and people of color.
With millions of American households struggling to stay afloat due to the pandemic, it is imperative that the Senate passes the House version of the HEROES Act. It will allow families to gain access to additional food they desperately need during this time and it will help boost our struggling economy.
In addition to a 15 percent SNAP increase, the House version of the HEROES Act includes additional policy options to address food insecurity, including:
the extension of pandemic EBT benefits
keeping suspended the SNAP work requirement for able-bodied adults without dependents; these requirements decrease participation among groups at higher risk for food insecurity
increasing school meal reimbursements for schools scrambling to feed children while also grappling with the costs of measures to help prevent the spread of COVID-19
Arkansans, please call Senators Boozman and Cotton today and ask them to support a 15 percent SNAP boost.
Senator Boozman: (202) 224-4843
Senator Cotton: (202) 224-2353
If you're a resident of another state, feel free to contact your senators right now as well.