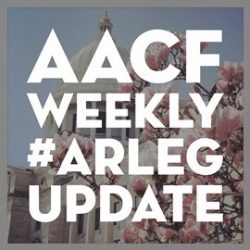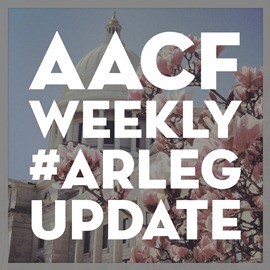 The 92nd General Assembly of Arkansas officially began Monday with swearing in ceremonies for 135 state legislators and Gov. Asa Hutchinson. Read Gov. Hutchinson's State of the State transcript here.
Tying the record set in 2009, 25 women are serving in the House this year.
Most of this week's committee meetings were organizational in nature, with chamber and caucus leaders elected, rules adopted and schedules set, among other activities. You can find committee assignments for the House of Representatives and the Senate online.
Did you know both chambers are now streaming live? Watch your legislators in action and find archived recordings here: House of Representatives; Senate.
For our first weekly video update, we met up with Sen. Hester. Stay tuned for more videos with legislators, AACF policy staff and other key #ARleg players.
Here are some of the week's developments from the Capitol we'll be keeping an eye on:
MINIMUM WAGE: Sen. Bob Ballinger and Rep. Frances Cavenaugh introduced Senate Bill 115, To Provide Exceptions to the Minimum Wage Law for Individuals Under Eighteen, Educational Institutions, Employers with Fewer than Fifty Employees, and Nonprofit Organizations and to Amend the Law Impacting Initiated Act 5 of 2018. In November 2018, more than two-thirds of Arkansas voters passed a state minimum wage increase, bringing the minimum to $9.25 per hour on January 1, and increasing incrementally to $11 in 2021. In 2014, voters approved a state minimum wage of $8.50. If SB115 passed, anyone under the exemption would only be required to be paid the federal minimum wage of $7.25 per hour, rolling back all minimum wage increases for thousands of working Arkansans.
EDUCATION: House Bill 1145, To Create the Teacher Salary Enhancement Act, was introduced by Chairman Bruce Cozart. This bill would raise the minimum public school teacher salary from $31,400 to $36,000 over the next four years.
HIGHWAYS: Rep Johnny Rye filed House Bill 1024, To Designate the Revenues Derived from Taxes Collected on the Sales of New and Used Motor Vehicles as Special Revenues; and to Clarify that the Revenues Derived from the Taxes Collected by Remote Sellers are General Revenues. The purpose of this bill is to take the first $150 million collected through state sales taxes on new and used cars and trailers for highway funding.
TAX AND BUDGET: Rep. Dan Douglas introduced House Bill 1002, To Require Certain Out-of-State Sellers to Collect and Remit Arkansas Sales and Use Tax, which is expected to generate more than $35 million per year.
As the session progresses, we will be tracking bills that could affect the welfare of children and low-income Arkansas families. Keep an eye on our blog for the latest news and updates, follow us on Facebook and Twitter for additional thoughts and analysis, and click the button below to sign up for action alerts, mobile alerts and email newsletters from AACF!