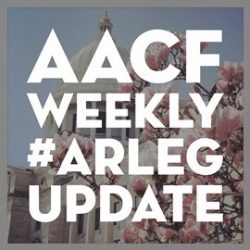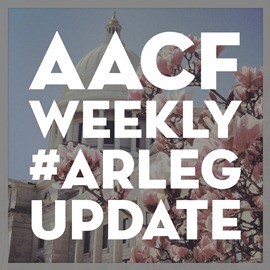 Things are starting to pick up at the Capitol, as bills move out of committees and groups host advocacy days.
Speaking of advocacy days, The Kids Count Coalition hosted Kids Count Day at the Capitol on Wednesday, with around 150 people in attendance. Child advocates attended breakfast with legislators, toured the Capitol, heard from guest speakers, attended legislative committee meetings and learned how to make their voices heard at the Capitol.
Our Session Update video this week has Sen. Greg Leding speaking about what he's excited to be working on this session.
Here are the recent developments we're tracking:
TAX AND BUDGET: Gov. Asa Hutchinson announced at a press conference Wednesday afternoon the filing of Senate Bill 211, which is the official filing of the Governor's individual income tax cuts plan. Read our analysis of the proposed tax cut's impact on our blog.
CONSTITUTIONAL CONVENTION: Senate Joint Resolution 3, which would add Arkansas to a list of states for an Article V Constitutional Convention of the United States, this week passed out of the Senate and into the House Committee on State Agencies & Governmental Affairs.
EDUCATION: Senate Bill 153, which would require plans for school-level improvement, professional development, curriculum and graduate studies to align with the Science of Reading, made it out of the Senate Education committee on Thursday and has been referred to the House.
HEALTH: Senate Bill 151, which would designate the Winthrop P. Rockefeller Cancer Institute at UAMS as a National Cancer Institute and create a National Cancer Institute Designation Fund, was re-referred to the Senate Public Health, Welfare and Labor Committee.
House Bill 1176, which would help make it possible for human breast milk depositories and banks to open in Arkansas and would establish standards for human breast milk, was sponsored by Rep. Aaron Pilkington and this week passed out of the House Committee on Public Health, Welfare and Labor.
INSURANCE AND COMMERCE: Senate Bill 113, which would abolish the Board of Directors of the Arkansas Health Insurance Marketplace and to transfer the Marketplace to the State Insurance Department, passed out of the Senate Insurance and Commerce Committee with an amendment.
As the session progresses, we will continue tracking bills that could affect the welfare of children and low-income Arkansas families. Keep an eye on our blog for the latest news and updates, and follow us on Facebook and Twitter for additional thoughts and analysis.