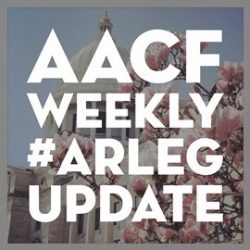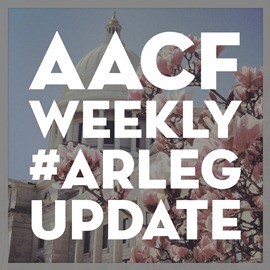 Week eight of the 92nd General Assembly has been an interesting one, to say the least. We had the great opportunity to attend the signing ceremony of Senate Bill 152, which is now Act 189. This law will bring critical reforms to the Arkansas juvenile justice system. You can read AACF Executive Director Rich Huddleston's full statement here and watch video from the signing ceremony below.
Here are updates on the bills we're tracking:
New Bills
IMMIGRATION: Rep. Douglas filed House Bill 1684, which would require that students who graduate from Arkansas high schools – as long as they've attended at least three years – be eligible to pay in-state tuition prices at state colleges and universities. Currently, some students who weren't born in the U.S. must pay out-of-state or international tuition prices, even if they've attended Arkansas public schools for many years.
House Bill 1757 by Rep. Godfrey would allow the Department of Education to grant teaching licenses to people who have federal work permits under the Deferred Action for Childhood Arrivals policy, commonly known as DACA. It would allow more immigrants to become teachers if they would otherwise qualify under state law.
JUVENILE JUSTICE: On Wednesday, Sen. Irvin filed Senate Bill 506, which would extend the tenure and the work of the Youth Justice Reform board (which sunsets in July 2019).
Rep. Clowney filed House Bill 1756, which would require parental consent for juveniles to waive their right to counsel, no matter the charge they're facing.
Moving Right Along
SCHOOL DISCIPLINE: Senate Bill 381, which would prohibit the use of corporal punishment in Arkansas public schools on a child with a disability, is expected to be heard by the Senate Education Committee.
CHILD WELFARE: Rep. Scott's House Bill 1608 is scheduled to be heard by the House Committee on Aging, Children and Youth, Legislative and Military Affairs next week. The bill calls for the House Committee and the Senate Interim Committee on Children and Youth to perform study of adverse childhood experiences.
HOUSING: House Bill 1410, which would require residential landlords to keep their rental properties in livable condition is expected to be heard by the House Committee on Insurance and Commerce next week.
IMMIGRATION: House Bill 1552, which would allow the Arkansas State Board of Nursing to issue licenses to people who are qualified to become nurses but have work permits under the federal Deferred Action for Childhood Arrivals policy (commonly referred to as DACA status) passed the House Committee on Public Health, Welfare and Labor on Thursday. It will be considered by the House next week.
HEALTH: House Bill 1290 passed the House and has been referred to the Senate Public Health, Welfare and Labor Committee. The bill would authorize pharmacists to dispense birth control pills to patients without a prescription.
EDUCATION: Senate Bill 304, which would create the Arkansas Healthy Lifestyle Education Act and to ensure Arkansas public schools address certain health issues in their health curriculum, passed the Senate Education Committee on Thursday and will be heard by the House Committee on Education.
House Bill 1409, which would require all elementary school students in Arkansas public schools to have at least 40 minutes of recess each day, passed out of the House Education Committee Thursday. It has been re-referred to the committee for amendments.
House Bill 1485 passed the House and has been referred to the Senate Education Committee. The bill would amend the list of things that schools can do with state National School Lunch (NSL) categorical funding for low-income students. It would allow NSL expenditures for dyslexia programs and interventions, as well as recruitment and retention of effective teachers. It also would prohibit the use of NSL funds for non-recurring teacher bonuses.
Heading to Voters
HIGHWAYS: The Senate passed House Joint Resolution 1018, referring to the voters the question of whether to permanently extend a 1/2 cent sales tax for the purpose of funding state highways. Having passed both chambers now, the proposed constitutional amendment would be on the ballot in the November 2020 election. The current 1/2 cent sales tax for highway funding is set to expire in 2023.
Heading to the Governor
HIGHWAYS: Senate Bill 336, Sen. Rice's highway funding bill, has passed both houses and has been delivered to the governor for his signature.
House Bill 1356, known as "The Hunger-Free Students' Bill of Rights Act," has passed both houses and will go to the Governor. The bill requires publicly funded schools that participate in the National School Lunch Program to provide a meal or snack to all students, regardless of whether they can pay or owe a debt for previous meals or snacks. It would also prohibit schools from stigmatizing students who owe debts for food, such as requiring the student to sit by herself in the school cafeteria.
Signed into Law
HEALTH: House Bill 1302, which addresses occupational licensing regulations to reduce barriers for licensed professionals to enter Arkansas's labor market, is now Act 319.
---
As the session progresses, we will continue tracking bills that could affect the welfare of children and low-income Arkansas families. Keep an eye on our blog for the latest news and updates, and follow us on Facebook and Twitter for additional thoughts and analysis.